Three Factors of Transformation in Utilities – Martin Dunlea Oracle
by Irem Sokullu 0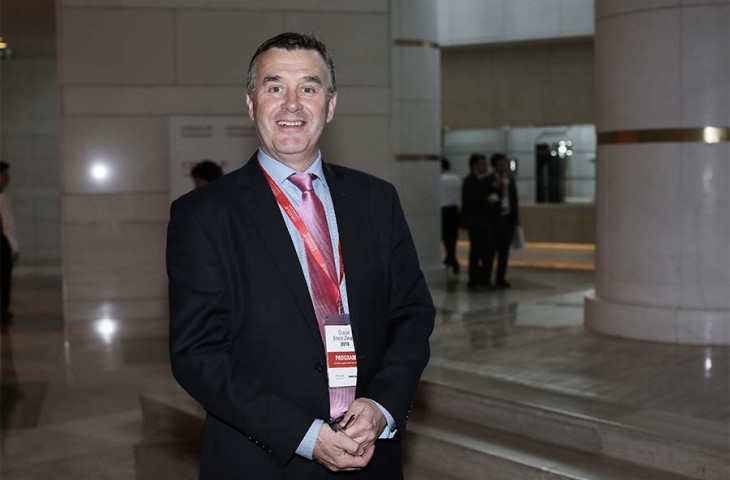 "Utilities tend to focus on customer experience transformation, operational excellence and big data and analytics challenge."
We had a conversation at Oracle Energy Summit with Martin Dunlea Oracle EMEA Region Energy Sector Strategy Senior Director.
In his presentation, he mentioned that utilities are not an easy sector anymore. The extremely traditional business now starts to face many challenges. It's a tough business regarding environmental and regulatory challenges. Now, they have new challenges transforming the business mainly to meet the new needs of the digital environment.
It is evident that there is a need for a transformation in the sector. Then, what are the factors of this transformation?
Utilities tend to focus on customer experience transformation, operational excellence and big data and analytics challenge. We know that the clients are much more demanding. Operational transactions have to be optimized in terms of time and cost. It is critical that utilities build a business around big data and real-time analytics. It is about how they deal and manage their customer. How they operate with excellence, efficiency and cost and at the center of those how they take the leverage of the big data are critical.
What shall the next generation companies become?
Most utilities have to be more collaborative moving forward. The relationship with the end-users changes dramatically. They are becoming partners in the entire energy value chain rather than consumers, which is very much the traditional view. They also realize that technology and rapidly changing business landscape are the essential elements to take on board. For the future, utilities will recognize key elements of their value chain will be managed and perhaps contributed by entities outside of the utilities. That is my point to relation to collaboration, willingness to open up and engage and a recognition that technology among other things has a significant role to play as an enabler.
How can Oracle help?
We have one of complete industry solutions and portfolios. We work with utilities all over the world with significant transformation challenges. We continue to drive innovation regarding helping to meet the need now and for the future.
Thank you very much.
My pleasure.
You can watch the video interview with Martin Dunlea Oracle EMEA Region Energy Sector Strategy Senior Director from below link in English.