Samsung Gear S3 which unites the advanced technological innovations and elegant analog design of smartwatches is on the shelves.
Samsung Electronics has presented its innovative and spectacular smartwatch Gear 3S to the acclaim of users. Inspired by the analog watches and the art of making analog watches joins the most advanced mobile technologies with the customers. With its elegant design and modern technologies, it will turn your lifestyle into a unique accessory.
Samsung Gear S3 is presented in two different versions which reflects different life styles. Gear S3 frontier inspired by adventurers has a stable outlook which unites the design and the functions. On the other hand, Gear S3 classic grants you the elegant minimalist style of the iconic watches. Both versions have been developed with great care, attention and meticulous craftsmanship.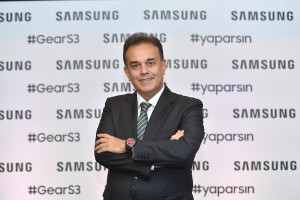 Tansu Yeğen, Vice-President of  Samsung Electronics Turkey, stated that "As Samsung, we are now introducing a new product which will shape the smartwatch market. With its technological features, the Gear S3 will ease the daily life of its users. Its elegant design will enable the users to carry them on their wrists with real pleasure and appreciation." Mr. Yeğen underlined the fact that the users indeed liked their previous model Gear S2 very much and continued; "With the new Gear S3 we shall sustain our customers a new watch experience which they would never abandon."
An Eligible and a Durable Design
Samsung Gear S3 reflects a different style of other smartwatches with its excellent details and its wide display has been produced with the inspirations of analog watch making.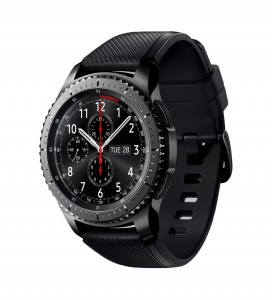 Users can personalize their watch experiences according to their needs and preferences by their selections among many sophisticated watchstraps* and interfaces. With its (AOD) Always On Watch feature and 16 million colors the screen of Gear 3S never fades out and shows the time continuously. Furthermore, users are able to design their personal interfaces along with the preset ones.
Being convenient to 22 mm straps, Gear 3S enables the users various watchsrap options. With its long duration battery, the watch can be used for 3-4 days with a single charge.
In addition to its elegant design, the Gear 3S has an IP68 water* and dust resistance. To meet the needs of the active explorers Gear S3 Frontier version sustains an enduring style at MIL-STD-810G standards. Both versions of Gear S3 are decorated with Corning Gorilla Glass SR+ to obtain a scratch resistant and crisp display.
Smart features to ease your daily life.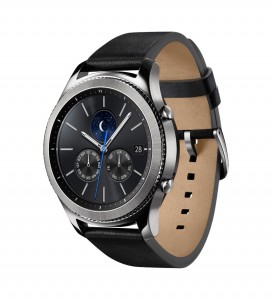 The Gear S3's signature rotating bezel has been enhanced with new features. Without touching the screen, users can accept or reject a call or snooze an alarm. Also, by writing or drawing on the display, messages will automatically convert to texts and emojis. Users can also create short reminders and to-do lists to manage even the most hectic schedules with the Reminders application.
Gear S3 owns a hardware consisting of many features such as speakers, barometer, GPS, and speedometer. The built-in GPS functionality enables users to accurately monitor their daily fitness activities while the Alti/barometer and Speedometer allow users to track everything from altitude and atmospheric pressure to sudden changes in weather, distance traveled and speed.  Additionally, with the built-in speaker, users can activate voice messaging and listen to their favorite tunes.
Local Applications
There are more than 11 thousand smartwatch apps compatible with Gear S3. The numerous applications* of fitness, music, news, game and travel promises the users a healthy and a pleasant lifestyle.
Local applications compatible with Gear S3 is increasing every day. With the smartwatch applications of Yapı Kredi Bankası and TEB users can easily handle their banking activities. With the improved applications sustained by Turkish software developers GoPro Shutter and Maestro capabilities of the Gear S3 is carried further ahead.
In case of an emergency, Gear S3 assists with its location tracking capability.
The Gear S3 was designed with consumers' safety in mind. In case of an emergency, users can activate the SOS and location tracking capabilities to alert family, friends and emergency professionals about crisis situations, even when their phone isn't in-hand.
Samsung Gear S3 frontier and classic models can be purchased at 1.299,- TL suggested prices in Samsung stores, operators and technology markets. For further details, please feel free to use  http://www.samsung.com/global/galaxy/gear-s3/  link.
* Watchstraps are sold separately.
* The water resistance of the product is compatible with the IP68 test procedures at 1,5-meter deep, pure water for 30 minutes. Water resistance feature is only valid for certain conditions.
* Some applications can be purchased additionally.
* Service tracking and capacity may vary according to regions or market conditions.
About Samsung Electronics
Samsung Electronics is inspiring the world with its innovative ideas and technologies and shapes the future. The company brings a new definition to the worlds of  TV sets, smartphones wearables, tablets, digital cameras, household products, medical appliances, network systems, semiconductors and LED solutions. For further details, please feel free to use the  www.samsung.com