SES-10 launched successfully on SpaceX's flight-proven Falcon 9 rocket
by ThePercept 0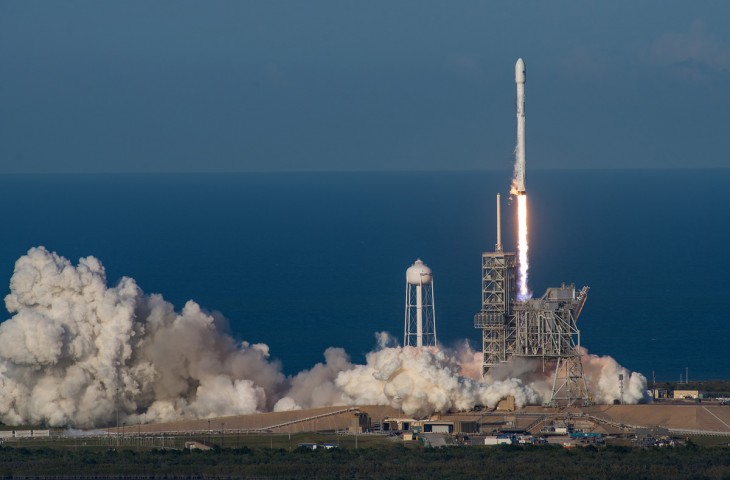 SES announces that the SES-10 satellite was successfully launched into space onboard a flight-proven SpaceX Falcon 9 rocket at 18:27 EST  from NASA's Kennedy Space Centre, Florida. SES-10 is the first geostationary commercial satellite to ever launch on a flight-proven first-stage rocket booster.
With a Ku-band payload of 55 36MHz transponder equivalents, of which 27 are incremental, the multi-mission spacecraft is the first SES satellite wholly dedicated to providing service to Latin America. SES-10's high-powered beams will augment SES's capabilities across the region providing direct-to-home broadcasting, enterprise and mobility services.
SES-10 will replace capacity currently provided by other SES satellites at 67 degrees West, as well as bring additional capacity to Mexico, Central America, South America and the Caribbean.
Pursuant to an agreement with the Andean Community (Bolivia, Colombia, Ecuador and Peru), the satellite will operate as the Andean Community's Simón Bolivar 2 providing satellite capacity for each Andean Member State. The Andean satellite project comes from the shared Member States' interests of having a common satellite network taking advantage of the Andean spectrum resources at 67 degrees West.
"The successful launch of SES-10 on SpaceX's first ever mission using a flight-proven rocket is opening up a new era of spaceflight. We are proud to have partnered with SpaceX on this journey of innovating and using reusable rockets that will make access to space more efficient in terms of cost and manifest management," said Martin Halliwell, Chief Technology Officer at SES. "The additional capacity offered by SES-10 is ideal for providing additional TV services with better picture quality as well as faster broadband services – both of which will be welcomed by millions of people throughout Latin America and the Caribbean."
"We are thrilled to have achieved the successful launch of a flight proven Falcon 9. This is an historic milestone on the path to complete and rapid reusability," said Gwynne Shotwell, President and COO at SpaceX "We are pleased to have accomplished this milestone with SES, which has been a strong supporter of SpaceX and innovation over the years."
SES-10 is built by Airbus Defence and Space and is based on the Eurostar E3000 platform. The satellite will utilise an electric plasma propulsion system for on-orbit manoeuvres and a chemical system for initial orbit raising and some on-orbit manoeuvres.