Javier Goyeneche @Ecoalf transforms discarded fishing nets into clothes
by Irem Sokullu 0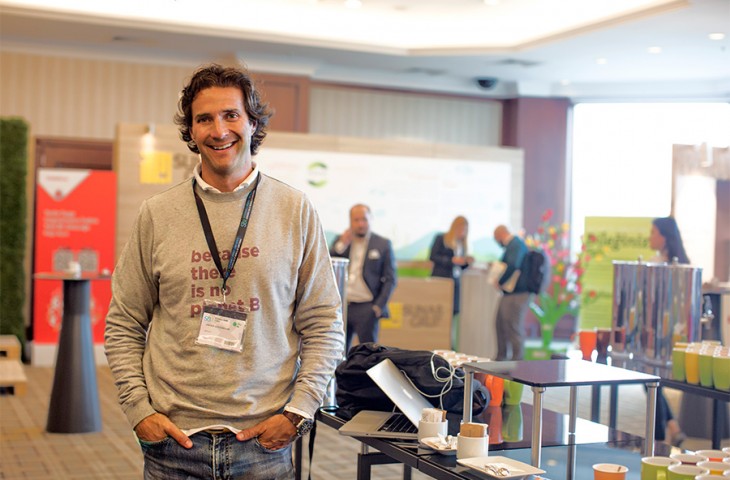 Ecoalf turns discarded fishing nets, post-consumer plastic bottles and coffee into clothes. Javier Goyeneche mentions "According to me sustainability is trying to do things in a more responsible way. It should not be something you are forced to do. It should be a pleasure. I mean it should make you feel good. "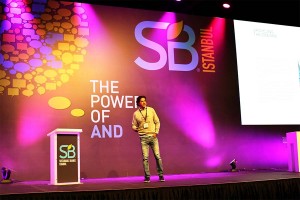 I listened to the presentation of Javier Goyeneche at the Sustainable Brands Istanbul 2016. He is the President and Founder of Ecoalf, which is a fashion brand that uses recycled materials as fabrics. Discarded fishing nets, post-consumer plastic bottles, worn-out tires, post-industrial cotton, and even used coffee grinds become outerwear, swimsuits, sneakers and accessories in their hands. In my opinion, what they do is stunning, as 85 million tons of trash is produced each year. I had to chance to meet and have a conversation with this remarkable person. I also went to their site to learn more about them and see their products.
Here is his story in his own words;
"The idea was to create a fashion brand that is truly sustainable. The concept arose of my frustration with the excessive use of the world's natural resources and the amount of waste produced by industrialized countries. Through integrating breakthrough technology we wanted to create clothing and accessories made entirely from recycled materials…without actually looking like it. At the moment the company has 11 active alliances throughout the world (Taiwan, Korea, Portugal, Mexico, Japan, Spain, etc.) that allows developing continually through integrating breakthrough technology all the necessary elements to manufacture fashion and accessories with recycled materials."
I was amazed when I checked the materials they recycled and transformed.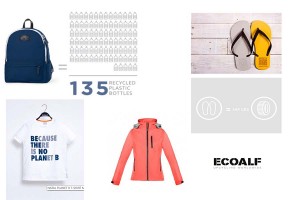 They collect, recycle fishing nets and transform into fabric and produce jackets. The trash in the oceans kills 1 million seabirds & 100.000 marine mammals & turtles. 650.000 tons of fishing nets are left on the bottom of our oceans. Fishermen change their nets every 2-3 years. They are collected in several harbors and selected on the quality and used to make new fabrics. Over 60 tons of discarded fishing nets have been recycled so far. There is a video you can watch on how they collect the nets. ( http://ecoalf.com/uk_en/upcycling-the-oceans)
They also recycle plastic pet bottles. 200 billion plastic bottles are not collected every year. Ecoalf can produce a bag from 135 recycled pet bottles and they save 20% of waste energy, 50% of energy and reduce 60% of air pollution.
Another material they use is tyres. 2-3 billion scrap tyres are stockpiled on unregulated piles throughout the US. They mention that tyres are very difficult to recycle, as it contains metals, antioxidants and fabric pieces, which takes them two years to be able to separate those elements and create a clean powder. A flip-flop can be produced from 344 gr tyres.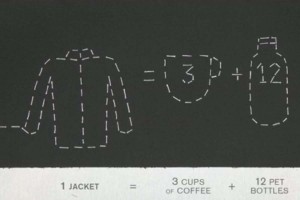 Have you ever thought to recycle post-consumer coffee? They have! Today they produce one jacket from 3 cups of coffee and 12 pet bottles.
After his presentation, I had the chance to talk to this inspiring person and asked a few questions. My first question was how they managed the collecting process and whether it would be applicable in Turkey also. He mentioned that the idea is to replicate the process in many parts of the world and they have started a project in the US. In Europe, they plan to do it not only on the coasts of Spain but also in the South of France, West Coast of Italy and North Africa. He liked the idea of doing it in Turkey as well and said "why not?" and continued "basically we have our foundation and need partners to do it with us. As an example for the South of France, we're now talking with a foundation to cooperate."
When I asked him his definition of sustainability, his answer was "according to me sustainability is trying to do things in a more responsible way. The moment of trying not to look what's going on is over. Things are getting worse very fast." He spends a lot of effort doing something responsible. So, I wondered whether he was still confident for the future of the world. He said, "I'm positive and do not want to say everything is bad. That is what's happening now but there are solutions. The problem is, if it takes us forty years to start putting those solutions in place then it will be much worse than now."
What I understood is people need to take action instead of talking. He confirmed and added "sustainability should not be something you are forced to do. It should be a pleasure. I mean it should make you feel good. You shall not do it because you have to do it." People need to be aware of what is going on and take actions. I can say, they are more aware today. These topics were not even on the agenda a few years ago."
It is a good sign. Lastly, I asked for his advice to the younger generations. His answer was, "I'm not very good at making recommendations, but I would say that they need to try to do something different. There are already too many companies doing the same thing. In my opinion, it is imperative to have something that makes you unique or different. That thing makes you grow."
I hope we begin to talk on these topics much more and younger ones live their lives more aware of these facts and start to generate businesses with this mindset. I'm quite inspired by him and want to share it with you.
Thank you, Javier Goyeneche! We need more of you. For those of you reading this article, I recommend you to check their products because they are cool. (www.ecoalf.com)