Vodafone – New Phase in the 4.5G "Digital Transition Movement"
by Fatih Sarı 0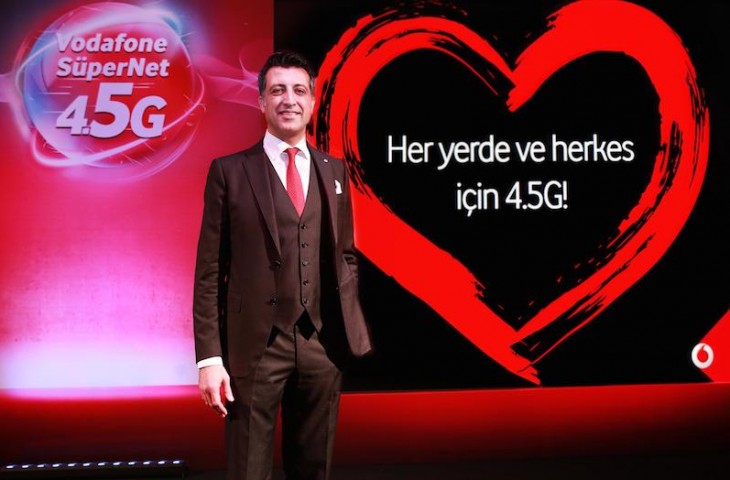 Vodafone, aiming to be the leading company in the Digital Transition of Turkey, has completed its preparations for the establishment of the 4,5G technology which will start a new era in our country in mobile communication. Vodafone has achieved the experience of 4G and higher technologies in 5 continents and 20 countries since 2010 and now from the 1st of April will reach their customers in Turkey. By the power of this global experience, Vodafone will aim to be the leading company to sustain the 4,5G technology to everybody everywhere with their "4bucakG" strategy. Vodafone will grant their users a higher quality service at a much wider area and will present 4,5G Coverage Map, Vodafone Call+, Safe Store and VOLTE facilities to enable everybody to meet the 4,5G wide-range communication technology.
During the Press Conference to share the 4,5G preparations with public in Maslak Plaza, Vodafone members realized a connection with their Network Operation Center in Tuzla by joining eight different frequency bands and reached a speed of 1,5 Gbps which was a first in Turkey.
Öğüt: A New Beginning to Digital life
During the conference explaining the 4,5G preparations of Vodafone, Mr. Gökhan Öğüt, CEO of Vodafone Turkey mentioned that the digital life will be remembered by a new technology named 4,5G by the morning of the 1st of April, 2016. Mr. Öğüt also stated that:
"As Vodafone Turkey, we call this a "Beginning" because we see this 4,5G technology as a new page in "Digital Transition" and a gate opening to the "Gigabit Society" of the future. Using the 4,5G technology, all individuals will enjoy higher loading speeds, much fewer delays, higher capacities and much better qualities. Furthermore, companies will achieve faster and more efficient processes in their business lives. All individuals, corporations, and devices will enjoy the capabilities of 1 Gigabit per second wide-range connection speed, and a brand new public order will be achieved. We call this order the "Gigabit Society" and the new life in this society will be realized by real-time connections to everywhere, every time by the establishment of an internet infrastructure which will connect individuals, companies, institutions and devices to one another. We shall continue our leadership in our Gigabit Society with the technology of the 4,5G in mobile communication and with our robust fiber networks will continue our services for permanent home telephones all over Turkey."
High-Quality 4.5G Service for the Countryside
Mr. Öğüt furthermore explained that to be able to extend the 4.5G technology to the farthest end of the country they have named their service strategy as "4bucakG" and mentioned that:
"Our primary target is to introduce the 4,5G to all corners of Turkey and grant our people the most prevalent 4,5G service with our high frequencies. As Vodafone Turkey, we deem this as a new phase of the "Digital Transition Movement" and evaluate the 4,5G technology as the gate opening to the Gigabit Society of the near future. By the establishment of the 4,5G, we shall enjoy higher loading speeds, fewer delays, wider capacities and a much more quality compared to 2G and 3G. We shall reach the information much faster in a broader coverage area. We intend to introduce the 4,5G to all corners of Turkey with our present     900 MHZ and other frequencies we have purchased recently and using our unique base station technology. By using these facilities, we are aiming the most prevalent 4,5G service area."
2 Billion TL Investment for the Most Prevalent Coverage Area
Mr. Öğüt promised that they will be the first service provider with the most prevalent coverage area and explained that:
"We are aiming to achieve this target using our 900 MHz frequencies together with the advantages of the 800 MHz coverage areas. We are the only provider using the SingleRAN technology in 900 MHz frequency since 2010. We shall be able to provide the 4,5G service on this frequency as well, and this technology will create a difference in the sector. SingleRAN is an efficient and convenient facility for the 4G and higher technologies. For this SingleRAN technology, we have already invested 2 Billion TL in recent six years. Six years ago we had already foreseen that the SingleRAN technology would be important and essential for the new generation wide-range frequencies such as 4G and higher technologies. Furthermore, we have doubled the number of our signal points all over the country. With our powerful infrastructure, we shall carry the 4,5G technology to everywhere and to everybody in Turkey."
4,5G Serviced to 500 Thousand Users
Mr. Öğüt said that nearly 90% of Vodafone SIM cards are compatible to 4,5G and by the morning of the 1st of April they will be the only service provider with the highest number of users. He also continued that:
"We shall be the pioneering company to offer all our customers 4,5G compatible devices with the most attractive advantages and prices. We desire everyone to use this technology in Turkey. In this capacity, we have already started to present all our users all types of smart devices compatible with the 4,5G technology at the convenient price and conditions in our "Vodafone Best Seller Desks". We give importance to the investment of these devices. We have increased the number of our devices compatible with 4G and higher technologies by 188% within the recent year. We have achieved this investment because we wish that everyone in Turkey will own a smart phone, and we believe that the usage of smart phones has to be increased. Another action we have achieved to prepare all our users for the 1st of April morning was to send all our "4bucakG" TIR Trucks all over the country. Our TIR Trucks has already traveled 3.792 kilometers all over Turkey and reached more than 500.000 users in Izmir, Eskişehir, Ankara, Kayseri, Gaziantep, İstanbul, Kocaeli, Bursa, Zonguldak, Samsun, and Trabzon."
We have discussed all these with Mr. Gökhan Öğüt, CEO of Vodafone Turkey. You may watch our interview video below in Turkish.