Interbank Card Center 'BKM' has started a social inter-communication campaign to warn all credit card users against the threat of conning incidents which began to increase recently, under the catchphrase "DO NOT BE TEASED". During the press conference organized to introduce the campaign, dietician Taylan Kümeli and the General Manager of the ICC, Dr. Soner Canko made various explanations and answered the questions.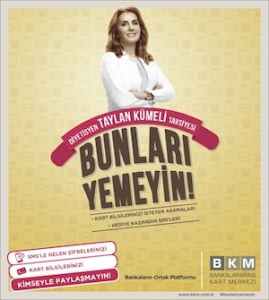 Dr. Soner Canko pointed out that the social engineering incidents have been increasing and thus, they have decided to start a social contract project and as a result, the "Do Not Be Teased" campaign had been realized.
There are five elements within the Bank Card payment system:
–   Banks
–   Retailers (e-trade)
–   Users
–   Providers
–   Media
Conners know your frailties very well, and they are using them.
Dr. Soner Canko mentioned his propositions as:
–   Do not share your personal data
–   Watch for your passwords
–   Be cautious against all types of "help" suggestions
–   In case of any hesitancy, contact your bank immediately
–   Always use licensed software
–   Be careful against extraordinary campaigns and be aware.
–   Know your position by using Findeks
–   Check your data at e-devlet and watch for probable changes (penalties, mobile lines, court cases, credit applications, etc.)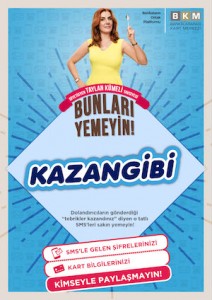 During the conference, dietician Taylan Kümeli reflected her suggestions as:
–   Drink water. At least, six glasses a day
–   Eat purslane. It is equivalent to fish
–   Do not neglect artichokes
–  In spring and summer prefer to eat fruits like plums, strawberries, cherries
–   Do not skip meals
–   Watch for snacks. Even a coffee with milk can count as a meal.
–   Watch your meal and chew as much as possible.
–   Do not consume carbohydrates in the evenings
–   Spend at least 2 hours before going to bed after dinners.
–   Prefer to eat fresh fruits and vegetables
Against the conning incidents which have been improved by social engineering methods recently, famous dietician Taylan Kümeli used a humorous campaign titled "DO NOT BE TEASED!" and warned the card users against all types of conning methods such as SMS messages asking for passwords and asked them to avoid sharing their personal data with others.
The Campaign emphasizes on the most prevalent methods of conning such as:
–   "Congratulations, You Have Won" SMS messages and,
–   Teasers sauced with the tastes of police, attorney, gendarme, banker, insurance specialist should be handled very carefully and "Should Not Be Teased".
Conning rates are very low in Turkey
According to the ICC data, within the year of 2015 only 1,1 TL conning has been suffered against an expenditure of every 10.000,- TL. In Western European countries this amount goes up to 6-7 times and in the USA, reaches 11-12 times. Systematic prevalent investments have been achieved in this field, and very powerful precautions have been taken but, nevertheless, the system can not overcome the weakness of the individuals who share their personal financial data with others by their free will.
Dr. Canko reminded that in the recent years both the ICC and the banking sector has achieved many substantial investments in the field of security by means of technology, system and human resources and stated that:
"We are one of the first countries which have completed the Chip&PIN transition. With the informative campaigns, we have achieved this change quite quickly. Our banks are following and using the conning observation and prevention methods most efficiently. Furthermore, we own a highly improved credit card sector infrastructure and therefore the conning figures are at very low levels. Turkey is one of the safest countries in the area of payment systems."
General Manager of the ICC, Dr. Soner Canko continued; " The combat against banking and credit card conning is a long term campaign covering all fundamentals such as using the technological infrastructure for briefing the card users against all probable dangers. Furthermore, all our banks, police forces and all official authorities must participate in this combat, and a sustainable improvement should be granted. This social inter-communication campaign that we have started to brief the card users has reached full masses by the contribution of our banks which shared this campaign with their customers."
Turkey is one of the Safest Countries, but the Combat will Continue
When we observe the source of the problem in this conning era, all card users at all ages and socio-economic conditions are tried to be conned by gathering their personal data using the facilities of SMS messages, telephone conversations, e-mails and false websites.
General Manager of the ICC Dr. Soner Canko explained that with this campaign they would like to emphasize on one major point, that is: "None of these highly improved systems will be sufficient to protect the data that the card users share with the conners by their OWN FREE WILL. Such incidents will continue their presence in our lives by changing their shapes and tactics. Using technology we are in a very highly improved level but still we have to travel a long way for briefing and aware our card users. This is a long term combat which has to be handled by the banking sector and with the collaboration of all related institutions."