I had a pleasant conversation with Semra Sevinç at Sustainable Brands Istanbul 2016.
Could you give us a brief information about the Academy of Sustainability?
The Academy of Sustainability is a non-profit organization which was established in 2009 and which also tries to enhance the transition to sustainable business models. Its purpose is to collaborate with all stakeholders and to conduct projects as multi-stakeholders to shape the future correctly, while, at the same time, practicing this transition. Besides, another purpose of it is not to render organizations profit- and market magnification-oriented but to help them to manage social and environmental influences on the market spontaneously with these targets.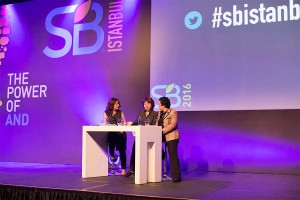 What would you like to say about Sustainable Brands Istanbul?
Sustainable Brands Istanbul held the fourth organization this year. This organization is the Istanbul leg of a global platform which was established in the USA. It is a platform with which brands determine their road maps to shape the future. Day after day, we face with different matters when these road maps are drawn. There are many changes in various fields such as consumers, buying models and social life. Beside likely changes, there are also consequences which emerge out of the blue. The economy in the world is rather floating. Besides, there is the fact of social media which causes them to be a loved or a hated brand in a minute. Though these impacts are transient sometimes, they can create significant positive or adverse effects on brands. Furthermore, there is a rapid numerical transformation in the world. When we take all these into consideration, the new road map of brands is to manage all these correctly, turn the risks into opportunity and, with the advantages in hand, to provide growth according to opponents or market. SB Istanbul organization is one of the brand meetings which are organized in 12 countries. This session is communication, information sharing, and collaboration platform. Many local and international brands participate in this organization.
Could you define sustainability?
Sustainability is not only about the environment. Managing social and environmental influences is also a part of sustainability while enhancing profitability and market share. Previously, companies had annual, five-year or decennial growth or new market plans. Now, there are social commitments besides the obligations provided to reach these targets. For instance, offering opportunities for a particular number of students or social services for a specific number of women. Similarly, one has to ensure commitments about the management of growth-based environmental impacts. Sustainability is to be able to execute all of these spontaneously. According to a research mentioned at the organization points out that 59% of the students of Harvard University believe that the rules of capitalism should be reshaped. So, we see that management models are different than yesterday. It is also necessary to manage social and environmental areas spontaneously. Previously, there were growth plans; today, social commitments start to emerge beside the obligations provided to reach new markets. The subjects which are debated on are the impacts on youngsters or women. Additionally, influences on environmental factors are also taken into consideration. Sustainability is to be able to manage all these three. However, it is significant to know the importance of the necessity of being ready for tomorrow.
In your point of view, is it consumers who triggers changes on companies or is it vice versa?
It takes place reciprocally. When a customer says "I definitely will not buy this product," producers check themselves. On the other hand, brands create a difference and offer themselves to consumers. For example; they remind themselves to customers saying that they don't have a particular substance in their products. What is more, though users are not aware of that material, brands remind these substances to consumers. In this way, we see that brands educate consumers and customers change brands.
You mentioned some research and gave numbers in your presentation.
According to the collaborative research of Nielsen, 63% of brands use sustainability for marketing. Only 2% offer commitment through specifying on their products. 29% is marketing and engagement are mixed.
According to the collaborative research of Glodscam and BBMG, 39% of the participants are in expression group. This group is the one which is taken as an example in the society they are in, and they influence the people around them.
11% is the group which is indifferent. They buy whatever they like to buy.
29% is the practitioner (pragmatic) group which totally focuses on price/performance.
The rest is adwalker. This group is not influenced by anybody. They have their truths, and they devote themselves to a certain brand.
Indifferent group can switch to other groups anytime.
In time, practitioner group will also start to look for something different than price/performance. Because new generations will replace them.
These groups have something to do with generations. When you look closely, you can see that 70% of the expression group is millennials. Their rate of being influenced decreases after a certain age.
What are your considerations about Gen Z?
Gen Z is a generation of technology. This generation will be a generation which thinks more. Transparency is of vital importance. The millennials work under their capacities, and this situation will apply more to Gen Z. They will be a generation which cherishes themselves more. They will work less but will set aside more time for themselves. Though they will be learned much, these kids will do what they have to do. They will be hired quickly to the jobs they want as they will be overqualified. Start-up models will also start to change with this generation. Start-ups about the management of social and environmental influences will increase.