"Industry 4.0 with Digital Evolution" – Informatics Summit 2016
by ThePercept 0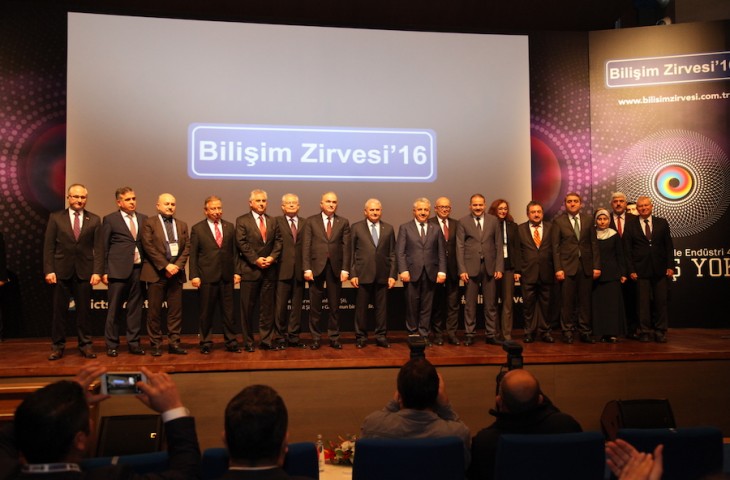 Informatics Summit '16 – ICT Summit event, the main theme, and motto of which were "Industry 4.0 and Digital Evolution" and "No Way Out! (No Escape!)" respectively, was held on November 22-23 at Istanbul Halic Congress Center. Let us share what happened at the summit initiated by top government officials.
Binali Yıldırım, The Prime Minister:  "It is a MUST we become a country that produces information but not buys it."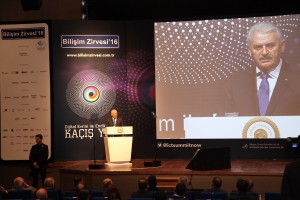 In his opening speech, Binali Yıldırım, The Prime Minister made important statements in connection with the informatics industry and Turkey's breakthroughs in this particular field, and said:
"Today is defined as the day of Industry 4.0 – Industrial Revolution. Time also has a spirit, and it is up to us whether to make an enemy or a friend of it. The effort to transform Turkish society into an information one makes this industry even more important.  Currently, over 1700 services regarding education, health care and agriculture are rendered via e-government technologies, which provides facility to citizens as they carry out their transactions in government offices. Mobile internet is much more accessible now that it is widespread in our country. The government installed base stations at over 1800 sites, which cannot be reached by operators. In 2015, we had the 4.5 G license tender. After that, we will be completing our preparations for 5 G. In 81 cities of Turkey, 4.5 G became accessible on the night March the 31st 2016.  The industry extended to 90 billion, whereas it was merely 20 billion in 2012, thus grew more than four times."
After having stated that they currently use each and every mean available to become a technology-developing country, Binali Yıldırım continued: "We have over 41.000 engineers at 64 techno-parks.  Monopoly is removed in the last 15 years; industry-related taxes are regulated; internet access became widespread. Regulations, which eliminate informality in the industry, are made. We'll see to it that taxes are no longer obstacles to informatics industry. Now is the time for information, not money. If you have information, you're one step ahead. It is a MUST we become a country that produces information but not buys it. To keep information in our country is just as important as for produce it. Regulations regarding cyber security are also made. The course of action is now in effect regarding said matter. In the upcoming days, we'll be carrying on with our activities on not only cyber defense but deterrence as well."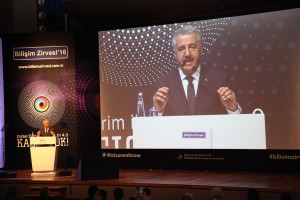 On the first day of the summit, Ahmet Arslan, Minister of Transport, Maritime Affairs and Communication, said: "56% of all the mobile phones that are used today is smartphones. 80% of those which are sold are smart ones, also. Fiber infrastructure increased from 88.000 to 278.000 owing to the mobile data traffic's expansion by 50 times. We're quite aware of the fact that, without information, there will neither be economic development nor growth. That is an industry that will change both our country's and the world's future. We do have significant accomplishments, and they should increase in number."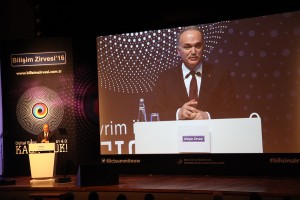 Dr. Faruk Özlü, Minister of Science, Industry and Technology – "Ministry of Science, Industry and Technology exerts lots of effort to make Turkey become a science-centered, technology-based and industrially advanced country.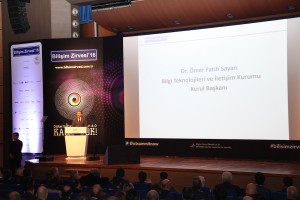 On the first day of the summit, Dr. Ömer Fatih Sayan, chairman of the Information and Communication Technologies Authority, referred to the significance of the industry and said: "Internet platform is not just a cyber one but the life itself. Industry 4.0 offers much more features than the ones before. Falling behind in production now means going out of play."
As Murat Göçe, the Head of BTHABER Companies Group, delivered the opening speech, Mario Pieper, the Head of Bosch & Siemens Global Corporate Digital Transition, Thougtworks, Digital Revolution's Organization -Thoughtworks, Sriram Narayan, a  consultant on Digital and Information Technologies Management & the author of the book – Agile IT Organization Design, Gaur Dattatreya, the Vice Chairman and the Head of Business Unit of Robert Bosch Engineering & Business Solutions attended the summit as speakers.
We had a pleasant talk with Murat Göçe, the Head of BTHABER Group of Companies before the excitement subsided.
Murat Göçe said: "We had reservations to set the event, but now I am glad that we did it." And then he added: "We're hoping to see this attendance level in the upcoming years. ICTSummit is not a brand's event, not a dealers meeting. We're trying to send out a message to anyone who uses informatics." He also highlighted the fact that "the event should be embraced by everyone for it is an event of the industry."
You can watch our video interview with Murat Göçe, the Head of BTHABER Group of Companies, by clicking on the link below in Turkish.
Are we ready for a digital future?
This year, Informatics Summit '16 discussed the matters of how we should prepare and meet digital future as individuals, companies, and countries. In the event, along with all persons and companies that make informatics an important part of life, a general context, which is intended to be included in the digital evolution processes of Industry 4.0, and over 200 valued spokesmen took place.
In the summit, topics regarding Technology Platforms, Social Meeting Platforms, and Special Projects are covered. New R&D and Innovation Approach of Industry 4.0 – Turkey's new way out-  is discussed as special theme projects. The following were discussed as technological and social platforms under the headings: Artificial Intelligence Algorithms with Big Data and Cloud Solutions, Digital Cyber Security 4.0, Digital Medicine Revolutions, Early Resolution Processes, Evolving to a Digital Society, Digital Works – Digital Gains, Digital Innovation in Mobile World, Dynamic Structure of Integrated Digital Marketing, Embedded Systems as Preparations for  IoT and M2M, Industry 4.0 in CRM Operations, Woman of Digital Era, Digital Istanbul, New Generation Cities and Smart Urban Renewals, Corporate Transition and Call Center Platform by ERP Committee.