IDC Turkey is ready for Digital Retail Conference
by ThePercept 0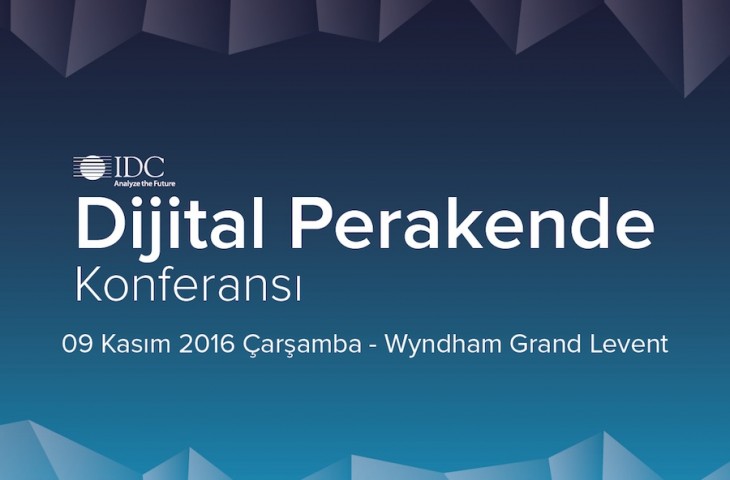 IDC experiences the rise of multichannel abilities at 'Digital Retail Conference 2016' held in Istanbul
International Data Corporation (IDC) has announced the Digital Retail Conference to be held in Turkey. The event, hosted in 2015 for the first time, will take place at Wyndham Grand Hotel in Levent on Wednesday,   November the 9th. The event will provide an ideal platform, on which the latest developments in the retail industry will be discussed. At the conference that will be attended by esteemed specialists of the retail industry, the abilities to switch to multichannel from single channels will be examined and IDC will share its experiences regarding digital transformation in the retail industry.
"Now, consumers hold favorable and intriguing customer experiences above everything else. The retail industry has been undergoing such a groundbreaking transformation", says Nevin Çizmecioğulları, IDC country manager of Turkey, and adds: " Though there are a few obstacles present, Turkish retailers attribute more and more importance to more multichannel alternatives to fulfill customer experiences' changing needs. While searching for new methods regarding digital transformation, retailers do struggle with the sales figures of ever-growing e-trade channels and suppliers.
"The existence of numerous alternative channels, which determine purchasing decisions, provided enjoyable retail experiences to customers and it is more important than ever" says Ramazan Yavuz, IDC Turkey Senior Analyst. He adds: "In this respect, due to being under pressure regarding differentiation in competitive strategies, retailers are after attaining unique customer experiences and as a result, many turn digital transformation into a tender bid. It is essential to meet customer needs through a flawless process established between multichannel systems but many retailers in Turkey have just started to understand its significance.
In this current situation regarding the retail industry, the Digital Retail Conference 2016, held by IDC, will explain how to maximize customer experiences through conducting a successful application of digital transformation, supporting newly developed digital technologies in the retail industry, and evaluating customer experiences in innovative manners. The Conference will offer the opportunity to discuss many issues like multichannel retail analytics, customer intelligence, e-commerce platforms, POS systems, mobile e-commerce systems, retail revenue management, supply chain planning, and new generation security in open forums.
The conference will be attended by Chief Information Officers, Chief Technology Officers, BT directors and managers of the leading companies like Migros, CarrefourSA, LC Waikiki, TeknoSA, Mudo, Hepsiburada, Eczacıbaşı, Aydınlı Grup, Vestel, Unilever, Koçtaş, Tadım and Metro C&C as well as Chief Marketing Officers, Chief Digital Officers, Chief Operating Officers and senior managers of e-commerce sales, marketing and strategic planning departments.
To cover all vertical technologies in the Digital Retail Conference 2016, IDC has come to an agreement with the leading suppliers and channels of the industry including Microsoft, Univera, Intel, Google, Hitachi, Fortinet, İnnova, İGE, Zebra, Smplivity, Bulutistan, İstanbul Pazarlama, Logsign and Tara Sistem.