ESET Survey says Five Years of Age Is the Digital Turning Point
by ThePercept 0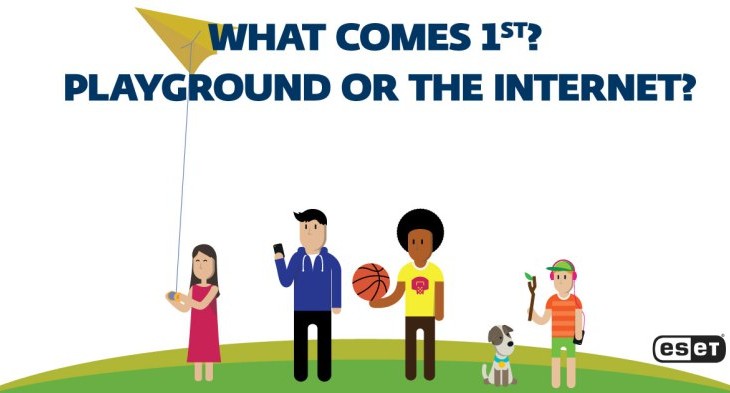 ESET, the pioneer of proactive protection, unveils the findings of its international survey "Evolution of a child and technology". One of the most notable findings is that parents in Russia are the strictest with younger offspring. Until boys and girls there celebrate their fifth birthday, almost none have their own mobile gadgets or are allowed to do anything in cyberspace without supervision. The ESET-commissioned surveys compare what parents in four countries – the United States, the United Kingdom, Germany and Russia – view as the appropriate age for the first steps in their children's digital and physical life.
"This differs from Western countries, where a significant percentage of kids have access to technology long before passing that 'milestone'. Surfing online without parental supervision is common for as many as 6% of British, 8% of German and 10% of American under-fives whose parents took part in the survey," says Ondrej Kubovič, IT Security Specialist at ESET.
This corresponds with another noteworthy finding, that parents are not at all happy about the fact that even small children are surrounded by modern technologies from an early age. There seems to be global consensus, with this viewpoint being held by a majority of respondents in all four nations. The surveys were conducted by Google Consumer Surveys in Germany, the United Kingdom and the United States, and by Merku in Russia, in January 2016.*
The results show that an overwhelming 96.6% of Russian respondents agree (26%) or strongly agree (70.6%)with the claim that "children today are using technology and the Internet at too young an age". Only 3.4% say they think the opposite is true. On the other hand, Germans emerge as more enthusiastic about the role modern technologies play in the lives of their children, with less than two thirds agreeing (31.8%) or agreeing strongly (33.5%) with the same statement.
Most parents surveyed also admit that their kids had their first social network account before turning 11 years old, and in Russia even earlier, where the average is just 8 years and 7 months. This is interesting, as many popular networks have significantly higher official age restrictions for starting an account, ranging from 13 for Facebook or Twitter to 18 for Russian VKontakte or YouTube.
The ESET surveys also indicate that British parents are the most security-savvy when it comes to protecting their children in cyberspace. Close to three-quarters (72.8%) of parents from the United Kingdom say they use parental control tools, such as ESET Parental Control. The lowest rate of adoption is in Germany, where only 33.5% say they use such solutions to monitor what their kids are up to when they are online.
* The Google Consumer Surveys (Germany, UK and US) and Merku Survey (Russia) were conducted online on demographically representative samples of 1,000 parents of children up to the age of 14 years in each country in January 2016.