Cloud From Distributor's Point of View and Penta Technology's Vision – Necmi On
by Sinan Oymacı 0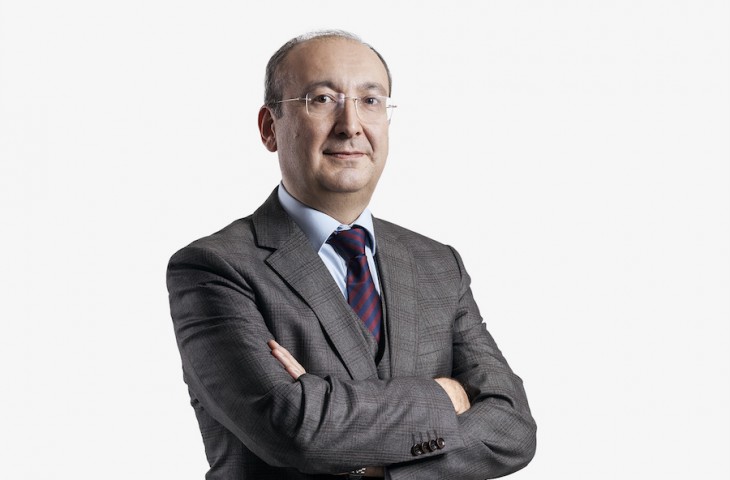 We've had a satisfying interview with Necmi Ön, Sales Marketing Director at Penta Technology about Penta Technology and cloud infrastructures at 'Game of Cloud' event which organized by Penta Technology and IBM for their cloud vision and strategies.
Hello, Mr. Ön.  The name you've chosen for the event is "Game of Cloud." Can you tell us about cloud and the cloud vision of Penta Technology from a distributor's point of view?
We, as distributors, are one of the most prominent actors of the ICT world. For that reason, many transformations and changes take place nowadays. These offer serious opportunities for everyone. However, they also do pose threats as well; for us, for our business partners, and for end users.
Those who cannot be a part of these changes will be facing a threat of being shut off from the game. It is a tsunami, and it is on its way.  No matter how strong you stand, and how big you are, you don't have any chance of stopping it nor can you outrun it. It is going to destroy and wipe you off.  However, if you take advantage of it, of its speed, as a surfer would, it will carry you even further. You can make much difference regarding competition. That is a fact.
As Penta Technology, we must have an acute response to the cloud. We must add more to the fields we change through our investments. After all, the cloud does alter the way of product delivery management, meaning it changes the way your products for sale enter the field. We are now talking about a model supplied by third parties over cloud instead of boxes of servers, software, and network products. It is proven in both North America and North Europe that such model does work. Therefore, it is possible for data processing, network, security and almost everything else to be melted in the same pot. That is a new concept, and it is not possible for distributors to be left out of it; we don't have such luxury nor do we intend to.
Besides, it is not possible for a company, which introduced the first e-commerce website to Turkey in  1997, to be left out of the concept. We've transformed our structure into a cloud-operative one. We work on an entirely digital structure. We received the best digital company award in 2015 by Accenture. We've been developing it further.
There is something that has just occurred to me. You've probably undergone a significant transformation on the way to a service or software, the structure of which was changed to the cloud from hardware marketing or distributing companies.
If you mean that about our internal use, then yes, we have. Penta Technology has no data center, for instance. All we have is on the cloud platform. All our critical applications have been operated through the cloud for years. However, of course, work in traditional terms will never end, it, too, will continue.
However, we will be seeing more of their applications in the concept of cloud, which as you know include the classical triplet public cloud, the private cloud, and the hybrid cloud because of the concept of cloud, even in private form, offers so much to its users. By "its users," I mean big corporations.  So the concept of cloud, whether it may be in public, private or hybrid forms, creates a new model in ICT world and us, as Penta Technology are aware of it. We are ready for this new world by working in collaboration and synch with both our business partners and manufacturers.
You've mentioned structures as subscription and service follow-up.
Among our operations, the most remarkable one is Penta subscription management. It is called "PAY."  It has good meanings both in Turkish and English.
Penta subscription management provides a basis for the model regarding the sales of cloud-based operations like monthly, quarterly, yearly, and three years rentals. These models do vary, and that's a fascinating part of it. It enables you to eliminate the first investment cost and to arrange a payment plan in installments. That arrangement also provides a repeated income, which is the primary income of all, to those who provide these services. We've developed a platform for its management.
I've told you earlier about our technological structure and the point we reached in digitalization. I can say that PAY is its peak.
You can purchase any service, cloud or software product on bayinet or our portal through PAY. The purchase you've made will be transferred to our manufacturer directly and digitally. Your license and service will immediately be in effect, and you will also receive an electronic invoice regarding your transaction. All it takes for us to perform these actions is a matter of minutes.
Can you tell us about your collaboration with IBM?
IBM is one of the truly leading and dominating companies of the industry. If you look back at intervals of 5 years, you can easily see how IBM's operations have become industrial trends.
Software, cloud, analytics and security. These are the new fields IBM has chosen.
We are the industry leader regarding software, and we have the biggest market share among distributors.
We've recently got the contract regarding Cloud. We started our relevant operations about the midst of last year.
We began working on both Cloud side, namely PaaS and SaaS, and IoT platforms like Bluemix. The fact of the new world lies in one of the leading brands in the new world of delivery platform, namely the platform on which Whatsapp operates.
Since we are in constant pursuit of making a difference, we've taken this step in the name of creating them, that applies to performance and security as well, and through these differences, we intend to differentiate our business partners at the competition.
If I'm not mistaken, you are also one of the best business partners of IBM.
We are working in an intense collaboration with IBM on hardware, software, technical service, and cloud.
Thank you.
Thank you
Please feel free to watch our interview with Necmi Ön, Sales Marketing Director at Penta Technology in Turkish.