Globally renowned speakers are coming to the ICT Summit on November 22-23, 2016!
by ThePercept 0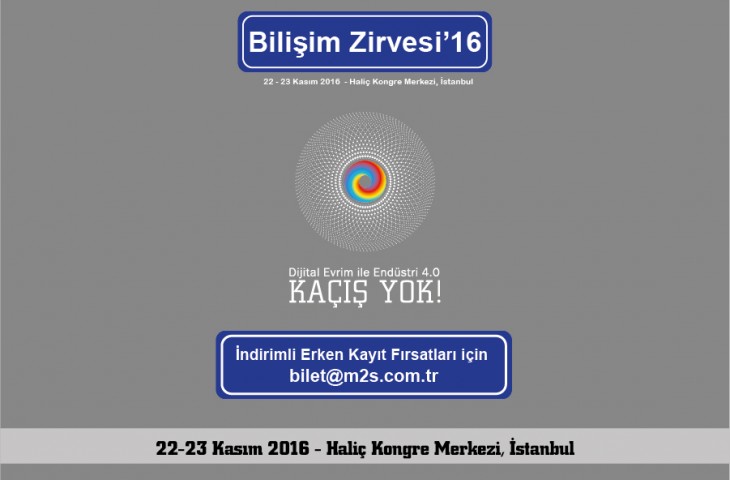 Informatics Summit'16 – ICT Summit event will be held at Haliç Congress Center in Istanbul on November 22-23, with "Industry 4.0 and Digital Evolution" main theme and with more than 200 speakers including globally followed names this year.
Informatics Summit'16 – ICT Summit event will be held on November 22-23, at Istanbul Haliç Congress Center with the participation of the globally renowned speakers. Among the speakers, there are names that the world is waiting eagerly to hear their ideas. T. C. Transportation, Maritime and Communication Minister Ahmet Arslan, Information Technology Board Chairman Dr. Ömer Fatih Sayan, the author of "Organization of Digital Evolution" Sriram Narayan and Robert Bosch Engineering and Business Solutions Vice President & Business Head of Unit Gaur Dattatreya will be the guests and speakers who the whole world will be eagerly waiting to hear.
In his book "Organization of Digital Evolution", Sriram Narayan answers the following questions: When getting prepared to the digital evolution via the CIO perspective, what are the opportunities and obstacles along the process? Which tools and methods would enable digital transformation? Sriram Narayan is considered "the author of one out of 10 books to be read in the field around world" and he is making the new definition of business analysis in digitalization and underlines how it should be.
Robert Bosch Engineering Deputy President Gaur Dattatreya will be sharing the answers of the questions such as how the industry 4.0 and integration process will proceed, what kind of a world is waiting for us after the process, how safe will this world be, how will be the automobiles in the future and which processes will be experienced for industry 4.0.
In the ICT Summit being the most important platform in the field with its international identity and rooted, strong, original and rich content; this year the main theme will be "Industry 4.0 and Digital Evolution" and "No way out! (No Escape)" motto will be underlined. In the summit, when creating a map of the digital evolution; the clues on Industry 4.0 wave will be discussed.
http://www.bilisimzirvesi.com.tr