Wacom received four prizes at iF DESIGN AWARDS
by ThePercept 0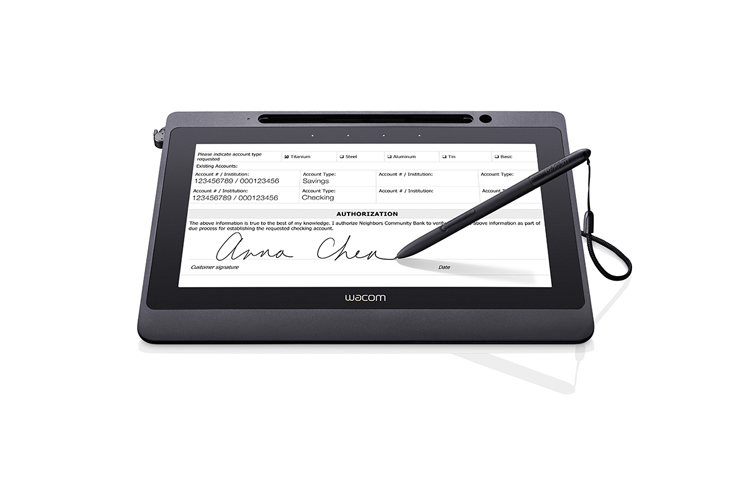 Wacom has sucessfully scooped four awards in the iF Design awards 2016. The multiple win demonstrates Wacom's innovative focus across all product categories equipping creative thinkers with digital note taking devices (Bamboo Spark), ambitious enthusiasts with graphic pen tablets (Intuos range), creative professionals with interactive pen and touch displays (Cintiq 27QHD touch) and last but not least consumer dialogue focused businesses with high quality and secure signature solutions (DTU-1141 pen display).
"We are happy to see that the efforts to incorporate the expectations and needs of our users are rewarded with four prestigious IF Awards", says Ed Neumann, Senior Vice President of Marketing for the Creative Business Unit.
Design, quality, finish and choice of material were main criteria for the jury's decision. All four products also represent a degree of innovation that stands out and will have an impact on the further development of the whole category.
Bamboo Spark
The iF recognition for the Bamboo Spark proves Wacom's successful commitment to innovate within a new market. The Bamboo Spark bridges the digital and analogue stationery dilemma many people face and provides a more holistic approach to traditional and new working methods. Bamboo Spark brings note-taking into the 21st century by offering a convenient way to capture ideas in both physical and digital ink to save them for further editing and sharing in the cloud. It is the perfect solution for anyone who appreciates the freedom and simplicity of working with pen on paper, but with the added convenience of a digital workflow.
A team of Wacom designers developed hardware, apps and cloud services to ensure a complete and outstanding user experience, focusing on a minimalist design, that won't get in the way of the user's creative process. A minimum of necessary interaction translates analogue into digital ink and lets the user totally focus on capturing ideas as natural as pen on paper.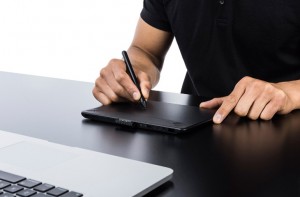 Intuos
The Intuos range award comes after Wacom's new design approach and its approach to provide a tailored solution to a target group. The Intuos Pen & Touch tablet range consist of four models: Intuos Art, Intuos Comic, Intuos Photo and Intuos Draw (pen only). Each model includes free creative software as well as additional training and offers. The pen tablets come in two different sizes, a choice of colours and a pen or 'pen & touch' version. A wireless connection kit is an optional accessory.
"Intuos connects advanced pen tablet technology with fun design and easy accessibility. Numbers already show that the product speaks particularly to the young, talented and ambitious creatives who have just started in a digital workflow", Neumann confirms. The main body is a single part that wraps cleanly around the entire front and back of the tablet. Along with placing ExpressKeys at a slight angle and a fabric loop for the Intuos pen to be neatly stored. The dot marking of the tablet surface is an attractive graphic design element, but also serves to show the working area more intuitively.
Cintiq 27QHD touch
The Cintiq 27QHD creative pen & touch display offers a seemingly infinite surface, letting artists and designers see the bigger picture. To help support a natural and intuitive workflow all ExpressKeys have been banned from the screen and put into the new ExpressKey® Remote, which can be placed anywhere on the screen or desk. It gives the user a faster more flexible workflow with a Touch Ring that helps to scroll, zoom and rotate with ease. Additionally, the Cintiq 27 offers a variety of stand options, providing users with the freedom and flexibility to comfortably work with the Cintiq at varying angles for hours and hours.
DTU-1141
Processing of eDocuments is more and more common in various businesses and applications. The full HD screen of the DTU-1141 pen display is not only elegantly designed but also adjusted to the best use in a customer dialogue situation. Private and public business entities seeking a best-in-class solution for viewing and filling out and signing full-sized eDocuments are the main users of this new product.