EMC Corporation today announced that it has been selected as the official IT storage supplier for Land Rover BAR, the British team conceived by Sir Ben Ainslie to win the America's Cup and bring it home toBritain for the first time in its 167 year history. Through the use of EMC technology, race and testing data will be consolidated rapidly to ensure that the Land Rover BAR teams around the world are able to run real-time analysis versus waiting until the following morning for information to be ready.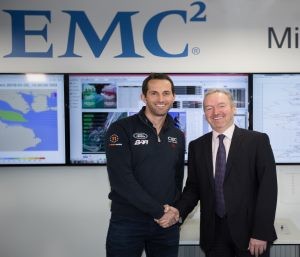 With two operating bases, the 'EMC Mission Control' centre in Portsmouth, UK and a second in development at the America's Cup venue in Bermuda, plus a mobile centre travelling worldwide to the preliminary events, Land Rover BAR will have all of its data continuously replicated between the three sites. As a result, the Land Rover BAR team in Portsmouth will be able to analyse race and testing data from around the world immediately, allowing them to identify and make improvements right up to and through the finals inJune 2017. As a result, the design team and crew will be able to adapt much faster.
"Our primary goal at Land Rover BAR is to win the America's Cup, and we are focussed on making the boat go faster. The ability to have all of our experts-wherever they are in the world – quickly analyse our testing and race data is a key part of achieving that. EMC's immense heritage in helping companies squeeze every ounce of value out of their data will make us more competitive," said Sir Ben Ainslie, team principal and skipper at Land Rover BAR.
Analysis with eight cameras
To support the telemetry data being collected, high definition video from eight cameras enables more in-depth analysis of the boat in action. All of this data will be stored and accessed for analysis using EMC's new VCE VxRail Appliance, the market's first and only fully integrated next generation VMware hyper-converged infrastructure, VNXe and Isilon, with every single piece of data captured, stored and reviewed. Bermuda's geographically isolated location in the North Atlantic underscores Land Rover BAR's critical need to implement technology that will rapidly duplicate all data across the global locations, to ensure everyone on the team is using the most up-to-date information.
"It's a real privilege to become the technical storage partner for Land Rover BAR. They have a tremendous vision and Sir Ben has brought together a truly world-class team. Harnessing this data will play a significant role in the development of both the boat and team. EMC will ensure that it can be rapidly accessed by the whole organisation without interruption, throughout the campaign. We look forward to being part of their journey," said Ross Fraser, managing director, UK&I, EMC.
"Land Rover BAR has expanded very quickly from ten people with a single server to a much larger organisation. We need to ensure our IT systems are secure, fast, reliable and replicable to enable us to meet our goals.  As the team continues to flourish and our computer and storage demands increase, I'm confident that EMC is the partner that will deliver. They will provide our IT team with considerable peace of mind and a straightforward system to work with," said Peter Jones, Head of IT, Land Rover BAR.
Jeremy Burton, President, Products and Marketing, EMC says, "We are excited to support Land Rover BAR in its America's Cup bid and our storage solutions are ideally placed to deliver the speed and access to data which the team requires. With the introduction of the VCE VxRail Appliance, Land Rover BAR will be able to flexibly and rapidly scale, irrespective of location, ensuring a seamless experience for the team. It's a perfect fit.