This year the seventh New Banking Vision Conference was organized after six assemblies in six different countries.
Asseco SEE, the 6th biggest software company in Europe, achieved the organization and the new trends regarding digital banking, payment channels and security issues were discussed under the new banking vision.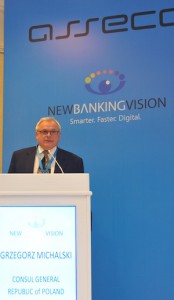 Asseco, with over 20.000 employees in 40 different countries were once more certified its leadership in banking, e-payment, and security by organizing a conference where the latest trends were discussed in the areas of new generation banking. The primary representatives of the sector participated the assembly, and Grzegorz Michalski, Consul General of the Republic of Poland in Istanbul, addressed the opening speech. Briefing on the economic relations between Poland and Turkey, Michalski stated that little changes might lead to significant and meaningful financial results and drew the attentions to the improvements in the economic relations of both countries.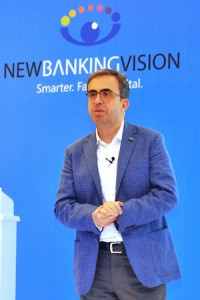 Dr. Soner Canko, General Manager of BKM, shared his views and expectations on the subject of "Banking and Payment Trends in Turkey".
The vision of new generation banking was evaluated.
In various parallel sessions, topics on digital banking, payment channels, and security were discussed in detail and views were exchanged during these discussions regarding digital banking, e-payment and internal and external embezzlement. The safe e-payment solutions NestPay® Merchant Safe ® Unipay ve InACT® achieved by Asseco SEE was highlighted during the conference. Companies like Unicredit, Bimsa, SMM Bilişim ve Akbank using Asseco solutions contributed to the parallel sessions with their success stories. The panel titled "New Banking Vision" moderated by Hatice Ayas, Asseco SEE Turkey Country Manager attracted high attendance and interest with the participation of the primary professionals of the sector such as Osman Tanaçan, Technology Director of Ziraat Bankası, Fahri Öbek, Deputy General Manager of Türkiye Finans Katılım Bankası and Serkan Ülgen, Group Manager of Yapı Kredi Personal and Platinum Banking and Card Payment Systems.
Banking is transforming, payment channels are increasing, and consumers gain a faster service.
Piotr Jeleński, CEO of Asseco SEE and Hatice Ayas, Asseco SEE Turkey Country Manager mentioned about their innovative approach to the sector and evaluated some topics like changing business models, safe payment solutions, digital banking, mobile banking and services which grant some benefits to the consumers.
Nenad Subotic, Payment Group Sales Director of Asseco SEE, briefed on the topic of "Asseco SEE e-Payment Vision" while Pascal Podvin, Deputy General Manager of ThreatMetrix, the golden sponsor of the activity, contributed to the conference with his presentation titled "Customer Safety: The Keystone of Digital Transformation".
Companies using new technologies and earning the trust of consumers will lead the sector.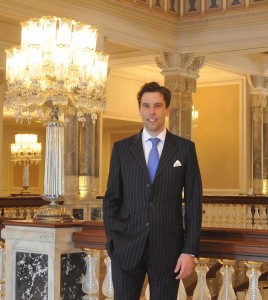 Piotr Jeleński, CEO of Asseco SEE explained that with this 'New Banking Vision Conference' they have obtained the opportunity to share mutual views and ideas with the sector representatives of six different countries on new generation payment systems. He emphasized the point that companies earning the trust of the consumers and adapting themselves to technological improvements would lead the sector.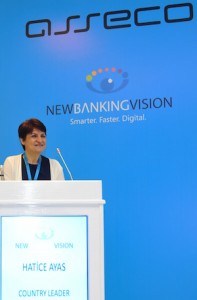 Hatice Ayas, Asseco SEE Turkey Country Manager, underlined the rapid innovation based improvements in Banking and e-Payment areas and briefed about their peer-to-peer solutions in many countries empowered by their 25 years of knowledge and experience. She continued by mentioning: "We are glad to express our pleasure by uniting the sector professionals and our business partners under the roof of Asseco SEE with this seventh conference. As in the whole world, the technological innovations are shaping our lives in Turkey as well. We can carry our services and solutions to many different countries by the power of our specific team members. We discussed the future during this organization, and new inspirations will lead our way. Taking this opportunity, it has been a great honor and pleasure for us to host the leading companies and professionals in the sector."
NestPay®: Is a secure PCI-DSS compatible e-payment solution in the online payment market for companies to offer their clients online collection solutions.
Merchant Safe ® Unipay: This solution is improved for card keeping and multi-bank routing of member companies and is distinguished by its one-touch feature. Safe® Unipay grants it users safe collections without asking for card details and with a minimum investment.
InACT®: Is a flexible solution for internal and external embezzlement protection with a minimum dependence on IT members. It grants the real-time tracking of different banking channels and their service channels to their consumers monitored from a single center.
You can watch an interview with Piotr Jeleński, CEO of Asseco SEE below.

About Asseco SEE:
Asseco SEE is one of the leading IT companies of South East Europe and Turkey regarding software and service revenues. It offers ICT solutions as well as information and communication technologies to vertical sectors such as finance, state, and telecommunication companies. The shares of Asseco SEE are exchanged in the Warsaw Stock Exchange Market since October 2009. The company employs over 18.000 employees in 40 different countries. 10 of the 15 primary banks in the South East Europe area are using the solutions and services granted by Asseco SEE.