Microsoft Corporate Solutions – Dynamics AX – Murat Kansu
by Sinan Oymacı 0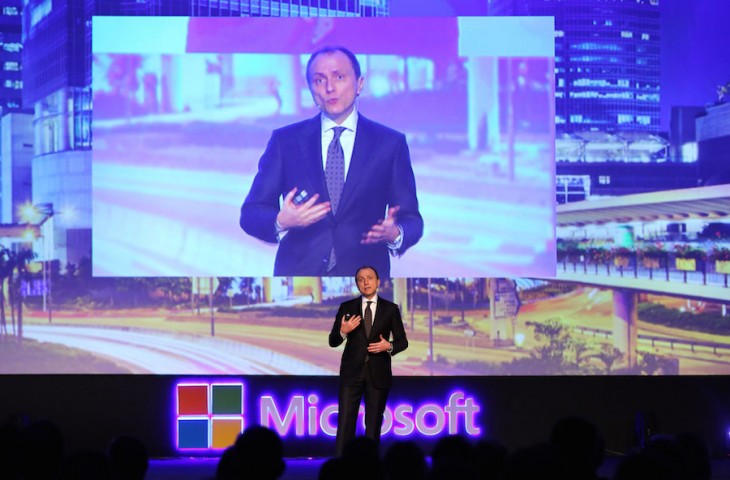 Excerpts from the press conference of Mr. Murat Kansu, General Manager of Microsoft Turkey, during the Microsoft Corporate Solutions Summit:
Where is Microsoft leading to in the sense of corporate solutions? It is evident that Microsoft owns a lot of solutions? What is your roadmap for the future?
Upon the Industry 4.0, all sectors in the world are experiencing the digital transformation. All systems are communicating with each other. Every day, millions of data are being produced. Their evaluation, analysis and value added on this data are changing the whole world. First of all, all companies have to realize this change and have to transform themselves. According to our view, in an environment where all businesses are connected to each other, all companies have to communicate continuously with their customers and need to understand their requirements much better.
Lesson One: Know your customers better. Communicate with them frequently.
Hence, we reach the topic of CRM. With the CRM product of Microsoft, if you understand your customer better, then you know what to produce and how to serve and thus you increase your customer satisfaction.
Lesson Two: Increase the efficiency of your employees. Today's most important issue is to improve your efficiency and go beyond your competitors.
Thus, our products related to efficiency like Office 365, Skype For Business, Video Conference will be your solution so that all workers can communicate with each other. You can achieve this communication anywhere and anytime. You can safely use our Skype For Business product without implementing any additional systems.
Lesson Three: Optimize your operations.
All companies, either producing or presenting services use certain processes. They have to optimize these processes and make them efficient. Hence, you reach our product named Dynamics. These products operate inside The Cloud and accelerate and sustain your operations and make them reachable anytime and from anywhere.
Lesson Four: After achieving all these, all companies have to check the new working models all over the world.
They have to consider new working models. They are all in the same sector, but their way of thinking starts to differentiate.
In conclusion:
Know your customers better.
Empower your employees. Make them more efficient.
Optimize and improve your operations.
Re-consider your working model thoroughly.
All these are interconnected with each other. You recognize your customer; your client gives you feedback, your working model receives this feedback and thus, you adjust your working model accordingly.
How do you convince your customers and other companies to transform themselves into such new technologies and carry them into The Cloud?
That is what we call the digitalization and digital transformation. If a company has already realized its importance, then it will not be very difficult to convince them.
Asides from large enterprises, how do the smaller ones approach to this matter?
The world is changing rapidly. Everybody wants to reach any data, anytime from anywhere. Some people working in the offices are reducing day by day. Many companies use this method to reduce their costs, and all workers are working in the field. Some work at home. If you have such an environment, then The Cloud is a must. Thus, you can reach anything, anytime from anywhere.
There are various devices like cell phones or tablets. Everybody wants to reach the same data. Again your address will be The Cloud. When we explain all these and make them understand the essence of mobilization, then, you can convince companies more quickly.
Big Data is a reality and data is springing from everywhere.
That is what we call the IoT – Internet of Things -. Data is coming from everywhere. This data has to be analyzed. Does each company have to buy a million dollar hardware to manage this data? Many companies do not possess nor can spare that amount of money. What is their solution? They get what they need from The Cloud and spend accordingly.
Security is another important issue. Each company has to sustain his safety, but they can never reach a level that Microsoft will grant them in The Cloud.
When we tell them all these, companies immediately want to participate.
Another big advantage is the cost issue. When you explain them the cost figures, 99% of these companies want to transform.
Security is an important issue, and all precautions are already taken. Still we see some examples. All the personal data of a huge company in the USA was all over the internet. A lot of photographs were issued. If somebody wants to hack something, he can find a way but, still many companies continue to use The Cloud and similar services. Doesn't this have a negative impact?
It does not, because this issue is related to your awareness. If you are giving your password to somebody – This could be the password to your computer in the other room or the one in The Cloud – Then, nobody can do anything. The purpose is to keep your password confident. The more you know about The Cloud, the more you become aware. If you obey certain security protocols then, The Cloud is extremely secure. Your server is more open to such attacks. You may not have yet obtained the latest firewalls nor have got the new security updates. Or you might not have employed a specialist working only in this security area. You should not have either because all these precautions will increase your costs.
Companies like us have to overcome all these problems because this is the core of our business.
We witness a lot of robberies. These are frequent in our country. A man breaks into your office and carries away all the computers and servers. Asides from all the data inside, goodbye to your whole system. When we talk to small scale companies, they complain about the difficulties they suffer from taking such precautions against these threats. But if you are under the protection of the Microsoft Cloud, you will have no threats or risks against robbery, nor you will have to consider an insurance cost. Asides from the insurance, once you lose your system, it will cost you a lot more to re-implement and operate it.
At which stage of this transformation is Turkey now?
It has started already. I can not say we are quite ahead, but we are somewhere in the middle.
As Microsoft Turkey, I can say that we are not at such a wrong level regarding The Cloud services compared to other countries. We are growing quite rapidly. When we compare ourselves with countries like us (Brasil, Russia, South Africa, Mexico) we are at an entirely satisfactory stage. The public sector has started to show interest, and they also began to use it. That is quite remarkable.
Are there any differences in the sectors?
Yes, there are. There are very strict regulations in Turkey. If you are talking about The Cloud, then you are working in the fields of international data services. According to the regulations, you can not use it in every sector. Instead, some companies build up their clouds. Some of our clients use their cloud in their buildings which we call the Azure Stack. Again you use the Microsoft Azure but it is on your own, and you do not share it with others.
Therefore, our growth sectors are production and service industries; all kinds of production like textile, nutrition, chemistry, automotive and all types of service companies.
Office 365 is also a cloud product. Banks can use it, and some municipalities use it.
Thank you very much.
Please feel free to watch our interview with Mr. Murat Kansu, General Manager of Microsoft Turkey at the following video in Turkish.
When we check our notes from the Summit:
To accelerate the business processes of the companies, Microsoft has announced its new generation cloud ERP solution product Dynamics AX during the Corporate Solutions Summit in Istanbul. The summit was organized in Istanbul Swiss Hotel with the assembly of over two thousand participants from thirty different sectors.
The ERP solution of Microsoft introduced during the Corporate Solutions Summit accelerate the business processes of companies and creates a more efficient business environment.
The new generation Microsoft Dynamics AX solution has been introduced to 137 markets including Turkey, in 40 different languages. With this new version of Microsoft Dynamics AX, companies can activate their mobile scenarios, will enjoy the benefits offered by The Cloud and change them to strategical advantages, may communicate with their customers much easier and will create a more efficient business environment for their employees.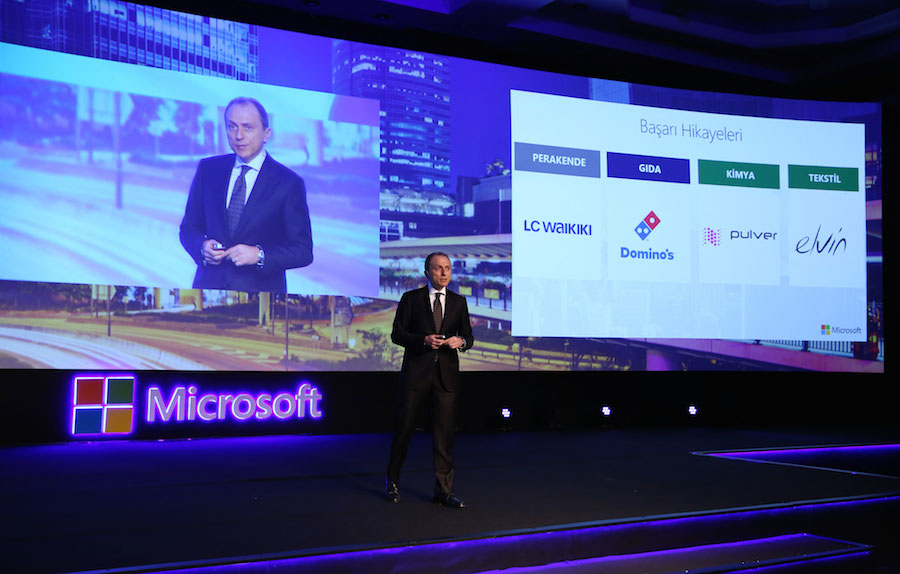 Mr. Murat Kansu, General Manager of Microsoft Turkey, indicates that "The IT economy is growing stronger. Thus, becoming the market leader is now a bigger challenge. The global ranking of companies like in the Fortune Magazine change today about 40% more rapidly compared to 1970'ies and 80'ies. The collapse of medium scale companies is twice the level of leading companies. Companies growing by changing and sustaining their achievements are now investing in new technologies; they draw their road maps according to the mega trends such as The Cloud solutions, Big Data, social networks, mobility, and security."
Mr. Murat Kansu further mentioned that "we have to be prepared for the problems. We shall have to experience during this transformation. In past industry revolutions, training a qualified worker was taking nearly 20 to 30 years. The dynamism and scale brought by the Fourth Industrial Revolution wipe out this option. As Microsoft, we have also re-defined ourselves, our mission and our strategies according to the essentials of today and the trends of the future. Using our new strategies we empower individuals and corporates for higher achievements. Turkey has a unique capacity among the improved and improving markets. Our country possesses an enormous growth potential with its young population and its geopolitical situation. This potential inspires us by all means. As Microsoft Turkey, we have a very successful working team. We shall continue to strengthen our powerful technological infrastructure and will keep on supporting our companies during their digital transformations.
Endless solutions for digital transformation
Microsoft is the unique company which can supply companies various business solution products directly from The Cloud and contribute for their digital transformations. Office Dynamics AX serves for the transformation solutions; Office 365 is for business activities, Power BI is used for customer acquisition and business analysis, and Dynamics CRM will grant you a complete business solution.
With the new generation Dynamics AX, Microsoft goes beyond the traditional business solutions used in The Cloud and gives the ERP and BI database services globally for companies such as Engine Group, Hagler Systems, Haldex, Icon, Renault Sport F1 Team, PRIVA, Smiles, Travel Alberta and Umbra Group and LC Waikiki in Turkey.
About Microsoft:
Microsoft is a productivity company with a mission to empower individuals and corporates to success higher achievements using The Cloud and mobile technologies and ideas.