EMC Unveils DSSD D5: A Quantum Leap In Flash Storage
by Fatih Sarı 0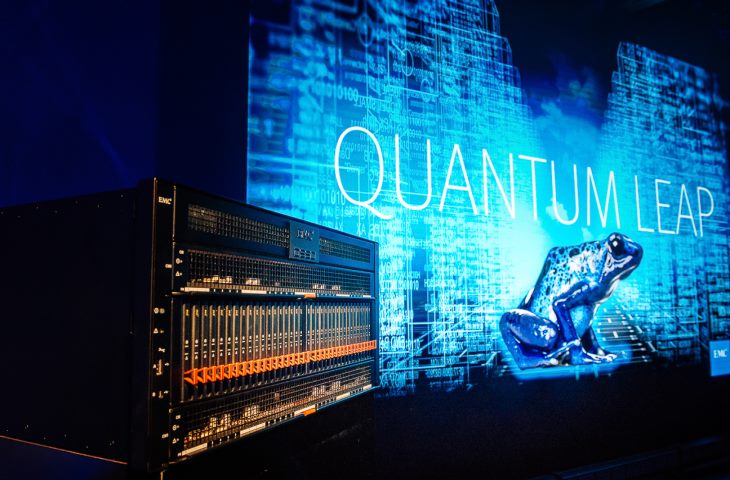 EMC Corporation today announced EMC DSSD D5, a quantum leap in flash storage. Available in March, DSSD D5 is the first of a new category of flash storage-Rack-Scale Flash. DSSD D5 is a completely new architecture designed for the most data-intensive applications, both traditional and next-generation, which require extreme levels of performance and the lowest possible latency. DSSD D5 reaches new performance heights, with real-world results that speed applications such as genetic sequencing calculations, fraud detection, credit card authorization, and advanced analytics by as much as 10X.
Enterprises at the cutting edge demand high-performance infrastructure to leverage data growth, data velocity and variety for business needs. These organizations require shared enterprise-ready flash storage with the highest levels of performance, throughput and almost nonexistent latency. Latency that in the past was only attained through direct-attached PCIe flash cards with major drawbacks in price, scale, expandability, serviceability, availability, and shareability – with every PCIe card an individually managed and non-redundant island of storage.
DSSD D5 delivers ultra-dense, high-performance, highly available and very low latency shared flash storage for up to 48 redundant connected servers. D5 is connected to each node through PCIe Gen3 and leverages NVMe technology, to deliver the performance of PCI-attached flash. D5 is a standalone appliance that is disaggregated from compute, delivering the benefits of shared storage. The result is next-generation performance with latency as low as 100 microseconds, throughput as high as 100 GB/s, and IOPS of up to 10 million in a 5U system.
The ultra-high performance D5 was developed from the ground up and packaged with multiple industry-first hardware and software innovations that set it apart from any other storage offering available on the market. DSSD D5 moves beyond storage into the realm of enabling next-generation applications that require extreme performance and scalability. Designed to meet the demands of the high-performance, data-intensive workloads of tomorrow, D5 also delivers a crucial link to emerging next-generation applications based on extremely large, fast-growing working sets with 100 percent hot and active data.
DSSD D5 reduces data center footprint and costs with ultra-dense, shared flash. The appliance provides up to 36 flash modules with 144TB RAW (100TB usable) capacity, in a five rack-unit chassis that can be accessed redundantly by up to 48 direct-attached servers. D5 is also engineered to provide increased application uptime through enterprise-class availability and serviceability features. These features include dual-ported client cards, dual H/A controllers, redundant components and industry-leading flash reliability and resiliency with Cubic RAID™, dynamic wear leveling, flash physics control and space-time garbage collection.
Proven Use Cases
EMC offers DSSD D5 to benefit industries currently limited by traditional architectures that were not designed for the extreme performance needs of their business critical applications. These include applications built on top of Hadoop, high performance databases and data warehouses as well as custom applications used for complex, real-time data processing and real-time analytics and insight.
DSSD D5 accelerates current databases and data warehouse solutions, such as Oracle, through an innovative low-latency data path to deliver 3X lower latency, one-fifth the rack space and 68% lower TCO than the highest published performance Oracle solution. With DSSD D5, customers can consolidate multiple applications onto a single storage platform, and simplify data warehouses by eliminating multiple copies of data, complex indexing, intricate partitioning, and the need for materialized views.
For Hadoop workloads, DSSD D5 significantly accelerates operational analytics compared to traditional DAS infrastructure. Also, customers can independently scale compute and storage, capturing maximum return from their flash investment by writing only one copy of data on flash, irrespective of replication factor set in HDFS.
DSSD D5 is creating a new category of flash storage, Rack-Scale Flash, and there's more to come. EMC's Converged Platforms Division (VCE), will incorporate DSSD D5 into its VCE converged infrastructure portfolio in the near future.
May we invite you to watch the video interview in Turkish we have accomplished after the meeting with Gokce Ozturk Business Development Director of EMC Eastern Europe, Africa and Middle East.