Turkcell exceeded 1 million clients on fiber
by ThePercept 0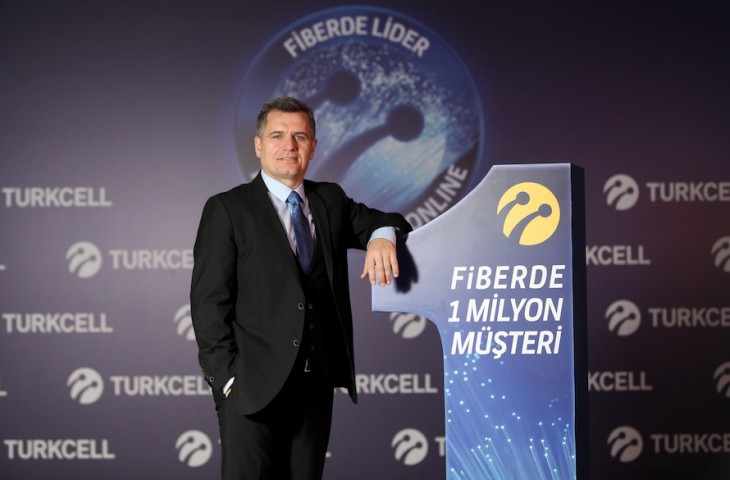 Murat Erkan, Vice General Manager for Sales at Turkcell indicates that they have reached 1 million customers despite all present difficulties, further stated that "Turkcell leads the fiber investments. We observe that 88,6 % of the fiber users are located at Turkcell Superonline locations. We have already started our studies to bring wireless internet to homes".
The country leader Turkcell achieving a ratio of 40,2 % to transform fiber investments to clients surpassing many European countries has already reached one million fiber clients. The first fiber client Bülent Solakoğlu and the one millionth client Onur Yalçın have participated in the ceremony.
Murat Erkan, Vice General Manager for Sales at Turkcell,  promised to their clients for 100 Mbps speed on the internet connection for a month. He further stated that they wished to enjoy the pleasure of reaching one million clients together with all their clients indicated that "Today, we are celebrating the happiness of reaching one million clients both on fiber and Turkcell TV+ as well. We wanted to share this double happiness with our clients. Therefore, we are increasing our speed to 100 Mbps throughout the month of December 2016 for all our clients without any constraints. Again, all through December 2016, all our clients who receive our TV services using our fiber network will get the highest level TV+ package".
Wireless internet to homes at 4.5G speed.
Erkan explained that, despite all difficulties they have suffered for the implementation of fiber infrastructures, they have already reached the maximum number of clients and have brought the internet to light speed to 18 cities all over Turkey after their new fiber cities Tekirdağ, Denizli, and Manisa. "We have already started our studies to sustain wireless internet to homes which do not possess a fiber network at 4,5G speed. We observe that the fiber investments are made to cities where Turkcell Superonline fiber networks are located. When we inspect the May 2016 city report of BTK, we see that all fiber investments for homes are implemented in the cities where we are already located. 88,6 % of the fiber users exist in the cities where our investments are implemented. We are now after reaching homes which do not have fiber networks all over the country".
(Here, he announced that they were working on the WTTH (Wireless To The Home) technology. Erkan mentioned that "We are working on the WTTH technology which will sustain a wireless internet to homes at 4,5G speed. Therefore, we are enjoying the excitement to realize a new 'First in Turkey.' The Internet will reach your homes without any wires using a simple small box and a sim card". (The performance of the TV broadcast I have watched on this test environment was reflecting the level of the access technology – Note by Mr. Sinan Oymacı)
Erkan further indicated that they achieved a fiber wire network of over 36.300 kilometers totaling to an investment value of 4,2 billion TL and had brought light speed Internet to 2,6 million houses.
Explaining that the WTTH technology will use the robust infrastructure of Turkcell and will distribute the 4,5G coverage all over the house and will be much faster than the ADSL, Erkan mentioned the following: "We shall place a sim card on the modem. The user will be able to connect to the internet via nearest 4,5G base station using a WTTH modem containing a sim card".
A new competitor to ADSL
Indicating that Turkcell has purchased the highest frequencies during the 4.5G tender, Erkan continued: "In fact, 4,5G technology is a milestone in many aspects. Using our high-speed and broader capacities we achieved to raise our user experiences to a higher level. Presently more users are enjoying our services like TV+, fizy, BiP, Dergilik, and lifebox whenever and wherever they like. Furthermore, we can offer a high speed and a broad capacity in mobile which enables us to bring solutions to our users in search of an alternative to ADSL with using our frequencies. Because the speed is low on the ADSL, the WTTH technology offers us an opportunity to sustain homes an internet connection at 4,5G speed.  Thus, the high speed mobile internet will be enjoyed very easily".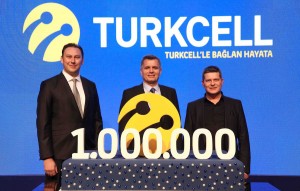 One millionth fiber client from Izmir.
The one millionth client of Turkcell was Onur Yalçın from Karşıyaka, Izmir. Murat Erkan, presented Yalçın a technology kit consisting of a Television set, T70 smartphone, and a T Tablet. In Izmir, where the one millionth fiber client lives, Turkcell Superonline has a 1.500 Km fiber wire network. Turkcell Superonline sustains fiber internet service to more than 140.000 clients in over 330.000 houses.
The First fiber client from Istanbul.
Bülent Solakoğlu, the first fiber client, was not forgotten either. While Solakoğlu told us how he became a subscriber, we had the opportunity to remember what we had experienced in these past years as well. It was very amusing to examine the notebook where his first subscription details were recorded.
Double celebration at Turkcell: TV+ users have surpassed 1 million after a million of fiber clients.
Turkcell TV+, the personal television, computer and mobile TV platform of Turkcell has reached one million users as of end October 2016. After the launching of the 4,5G technology, the watch rate of Turkcell TV+ on mobile phones increased to 28 minutes per day, whereas the mobile application downloads have reached an amount of 2,5 million units. Turkcell TV+, the official broadcaster of the Premier League and the NBA offers its users a high-quality resolution with TV+boxes which supports 4K Ultra HD technologies.
100.000 clients at "Single Invoice."
Turkcell has gathered all services under a single roof and has started a single invoice era, thus, achieving 100.000 clients in a very short term. Turkcell now offers its clients a new "5 in One Campaign" including the Turkcell TV+. Within the context of this campaign clients will buy TV+ family package, 50 Mbps unlimited* home internet, 4GB mobile internet, 500 Mn talking, 1000 SMS, 50GB lifebox memory capacity and 1GB BiP at 99,- TL.
* Download quota is 125 GB per month.