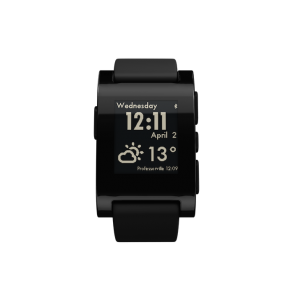 Those who are interested in technology and web sites will certainly know kickstarter.com. Many things have been written about, a lot of information has been given on this system. I also wanted to brief about.
kickstarter.com is a crowd funding web site. If you have a project, you just inform the web site on the details of your project. You indicate how much money you need and how you want to use the money. Users believing in your project send you money to support you.
The system is based entirely on trust. If the project you are supporting is successful, then there is no problem. If not, no problem at all. There is no guaranty for success. A lot of successful and unsuccessful examples have been shared about kickstarter.com projects.
Eight months ago, I was curious too on how the system was working and decided to support one of the projects trending at those days.
Pebble – getpebble.com – is a smart next generation watch. It changes the definition of a watch. It is a kickstarter.com project launched in April 2012. It is the idea of an American team, who had been producing smart watches before.
They started with the intention to raise a support for 100 thousand USD and phenomenally, they succeeded in collecting an amount of approximately 10 million 266 thousand USD within a short period. The number of supporting people was at 68.929. The amount of support, summoned after 28 hours upon the announcement of the project, was at one million USD.
However, there was a delay in the schedule of the project. According to the plan, initial products were to be delivered to the developers in August 2012 followed by the launch of the normal delivery in September 2012. The first shipment was made with a delay of 6 months. Currently, the shipments continue to be delivered to initial supporters of the project. I received my Pebble the other day.
The delivered product differentiates itself by its box. When I opened the box, I understood, that I had a very different watch in front of me. The material used is well-selected. The watch is very light, hardly to feel around your wrist.
You will probably ask for its features.
The Bluetooth protocol the watch uses, enables communication with devices such as Apple iPhone and iPod running the operation protocol iOS or Android. What does it mean?
You can download different applications. You can customize the display of the watch and calendar as expected from a usual watch.
On its display, you can see who is calling, if a sms or i-message arrived or not, from whom the call came, your appointments, the weather conditions, the alarms; if you listen to music, you can see what you are listening to. The watch vibrates for any information. Further, you get information on Facebook and Twitter.
Lets assume the following: You are in a meeting and your phone is in your pocket or in your bag. You can see the messages and calls on the display of Pebble around your wrist. If you listen to music, you can use it as a controller. Your phone needs just to be in the Bluetooth receiving area.
Pebble has an accelerator with three axis and gesture detection.
Although the chargeable battery is said to last more than seven days, this is an optimistic figure. It lasts less. The display is scratch-proof and non-glare. It is water resistant.
There is a Software Development Kit. This platform enables the society of developers to develop different applications. There is no limit.
The display uses a black white e-paper, this is why the image quality is so good.
The sun side of supporting a project in kickstarter is the provision of continuous information flow about the phases of the project. Pebble team has realised it properly. They have informed regularly at which stage the project was. They did not relapse into silence and appeared out of nowhere. There have been many criticism about the delay of the delivery. They listened to all such criticism and proceeded on their way.
It is not very easy to succeed in an operation, which is one hundred times bigger than planned. I therefore congratulate the Pebble team for their work and take my hat off to them. Congratulations. I'm glad I supported it. I placed myself among those lucky people.
Of course, the team has still a long way to go. On top of challenges comes the growing number of applications. However, when it is about software development and you have solved the hardware part of it, things will move further. I am quite satisfied with the stage it has reached.