NetApp Boosts Performance, Lowers Cost of Data Analytics Applications for Midsize Businesses, Remote Offices
by ThePercept 0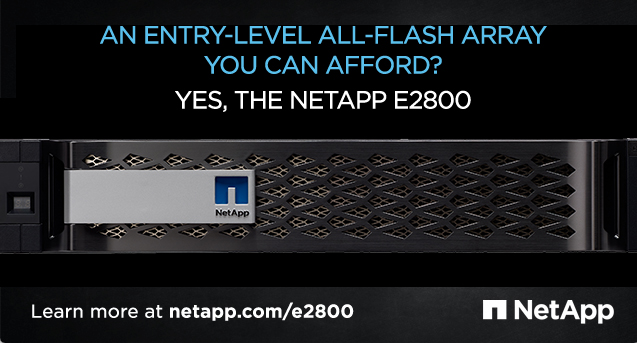 Enhanced SANtricity software, new entry-level E2800 all-flash array deliver affordable performance, simplify process needed to extract value from third platform data.
"Our health insurance administration systems are resource-intensive applications that are integral to entering or retrieving vital healthcare program data," said Mike Smith, infrastructure programs manager at MAXIMUS Canada. "The NetApp E-Series all-flash arrays do their job wonderfully. They're incredibly fast. They were an easy and cost-effective way for us to move into the world of flash storage."
NetApp (NASDAQ: NTAP) today introduced a new version of the NetApp SANtricity storage software. NetApp also introduced the new NetApp E2800, an entry-level all-flash array for midsize businesses and remote offices that need a simple and cost-effective solution to support data analytics applications. In addition, in collaboration with Zaloni, the data lake company, NetApp announced an innovative hybrid approach to data lifecycle management for the data lake.
Midsize businesses and remote offices are challenged with having limited IT staff and budgets to support critical applications, including data analytics technologies like Splunk solutions or technologies like Hadoop and NoSQL, which give these organizations the visibility and performance they need to extract value from their data quickly.
NetApp's new solutions deliver enhanced performance and usability as well as better efficiency and flexibility. Benefits include the ability to:
Streamline IT infrastructure and reduce operating costs by more than 35%.
Increase performance up to three times when accessing and analyzing data.
Gain best-in-class performance at the lowest acquisition cost for an all-flash array.
Process video up to six times faster.
Simplify deployment and access to data with a modern onbox browser-based GUI with SANtricity System Manager.
"The ever-increasing appetite of businesses to embrace third platform applications has led to challenges in gaining insights quickly," said Ashish Nadkarni, program director, Enterprise Servers and Storage at IDC. "NetApp is enabling users with the performance needed to turn data into competitive differentiators while keeping costs low."
Data Lifecycle Management for the Data Lake
Data lakes have emerged as a powerful architectural approach for managing the growing variety and volume of data. This is especially the case as companies turn to mobile cloud-based applications and the Internet of Things as right-time delivery mediums for big data. The ability to manage the lifecycle of data in the lake, based on age and relevancy, makes the difference between an efficient and a useful repository of valuable data assets and a costly one. With this new approach from NetApp and Zaloni, NetApp E-Series and NetApp StorageGRID® Webscale storage options enable organizations to define logical data lakes on and off the premises or a combination of both. Zaloni's Bedrock Data Lake Management Platform provides end-to-end management and governance of data in the data lake.
"While data lakes enable significant business benefits, homogenous data storage in the data lake degrades performance and efficiency. The automated data lifecycle management solution from Zaloni and NetApp helps customers appropriately size their data lake through tiering and use policies to automatically manage the storage tier based on the value of the content to the business," said Scott Gidley, vice president of Product at Zaloni. "Now customers can archive or delete data no longer needed for analytics or compliance and leverage object stores to reduce archive costs without sacrificing performance."
"Today's digital businesses are always looking for ways to maximize and accelerate the value that can be derived from their data," said Robert Berger, managing director of Big Data and Analytics at Global Technology Resources, Inc. "NetApp E-Series and SANtricity software helps our customers extract this value quickly and easily by offering superior performance to support some of the most extreme data analytics workloads."
"Without access to enterprise-level performance, midsize businesses and remote offices can be overwhelmed by the amount of data from third platform applications," said Eric Stoltman, vice president and general manager of the Hyperscale Storage Group at NetApp. "The NetApp E2800 all-flash array and SANtricity software give these customers the simplicity and performance needed to focus on making the best data-driven decisions for their business."