Enterprises can manage all the expenses over a single channel
by Sinan Oymacı 0
Enterprises can save up to 20 percent with the new solution by Asseco SEE 
Fidelity, a corporate property and expense management software developed by Asseco SEE, provides the opportunities for controlling the corporate expenses, the detailed analysis of the accrued and accruing expenses and their proactive management. Fidelity opens the way for easy management of expense units and transfer of investments into the right areas. Increasing the operational productivity of the enterprises, Fidelity enables a cost saving up to 20 percent.
The financial crises and economic depressions experienced in recent years have brought about the fact the enterprises now give greater importance to their investments and expense units. It is of vital significance for the enterprises to control their budgets in such a globally competitive environment. The enterprises which are basing on a robust and balanced financial strategy would like to see all the expense units on a single screen and manage their investments and financial politics in a more efficient manner. Developed by Asseco – a company which has more than 18000 employees in 40 countries – the Fidelity solution manages all the processes of property and expense actions of enterprises in an integrated manner; provides better control, transparency, traceability, and analysis and proactive management for all types of expenses.
Return of an investment lasts one year, the profit would be long term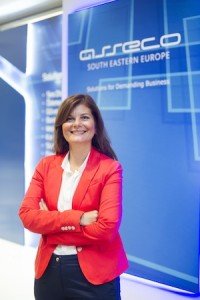 Stating that the investment made in the Fidelity, an ERP (Enterprise Resource Planning) solution, has returned within its first year, Asseco SEE Sales Manager Mutlu Akar gives this information about the solution which enables the enterprises to trace their expense units automatically: "As a reflection of our R&D power and experience in the sector, Fidelity provides an efficient provision and sustainable cost saving. Moreover, it makes it easy to perform a proactive budget control and expense and cost management. Integrating all properties, expenses and operational and expense processes related to the several different enterprise units, Fidelity differs from similar solutions thanks to its advantages such as transparency, traceability and central expense analysis opportunities it offers. Coming to the forefront with the short period for the return of the investment, Fidelity takes its place on the agendas of the enterprises wishing a competitive advantage."
Enterprises managing their properties over a single channel come to the forefront in the competition
Stating that Fidelity solution both offers a saving advantage up to 20 percent in the corporate property and expense management and increases the operational productivity, Akar says: "Expense analysis processes are kind of a must for enterprises. Enabling a rapid decision making under harsh competitive conditions, Fidelity solution makes it possible for expenses to stay on minimum level. With Fidelity supporting mobility, we offer an automated expense management to enterprises. The enterprises basing their expenses on a balanced and vigorous foundation can quickly make investment decisions and have cost savings at the same time."
Enterprises conducting expense management win
Adjusted for the needs of enterprises thanks to its flexible and modular structure, Fidelity can easily be integrated into the existing infrastructure. Thanks to its modular structure, Fidelity offers the opportunity of end-to-end and integrated management for all demand and purchasing management, contract management, property fixed assets management, personnel related expenses, real estate and construction solutions which all can work in an integrated manner. Compared to similar solutions, Fidelity increases the operational productivity of enterprises more than others. Providing the chance for "expense analysis over a single screen", this solution enables rapid and efficient cost strategies to be created thanks to the automated expense management. Making "transactions over mobile devices" possible, Fidelity offers the chance of tracing expense management independent from location and time. Accelerating the investment decisions and approval processes, Fidelity offers advantages to enterprises in direction with the investments to be made and strategies to be followed.
About Asseco SEE:
Asseco SEE is one of the biggest informatics companies of both South East Europe and Turkey regarding software and service incomes. It offers information and communication technologies (ICT) solutions for several vertical sectors including finance, payment systems, public, and telecom. Its shares have been traded on the Warsaw Stock Exchange Market since October 2009, and the Asseco SEE Group has more than 18,000 employees in 40 countries. More than 10 of the 15 greatest banks in South East Europe region utilize the solutions and services provided by Asseco SEE.