We had a nice interview with Hatice Ayas who is Asseco SEE Turkey Country Manager at New Banking Vision Conference
Could you give information about Asseco SEE?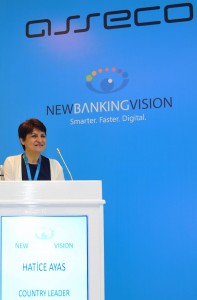 Asseco SEE is one of the biggest informatics companies of both South East Europe and Turkey regarding software and service incomes. We offer information and communication technologies (ICT) solutions for several vertical sectors including finance, payment systems, public, and telecom. Its shares have been traded on the Warsaw Stock Exchange Market since October 2009, and the Asseco SEE Group has more than 18,000 employees in 40 countries. More than 10 of the 15 greatest banks in South East Europe region utilize the solutions and services provided by Asseco SEE.
Could you tell us about your activities in Turkey? What kind of solutions and services do you offer here?
Asseco SEE entered into Turkish market in 2010 by acquiring the companies; ITD and EST. Giving importance not only to organic but also inorganic growth in the regions and countries where it operates actively, the company incorporated Sigma INC. in 2012. Offering service primarily in the sectors like finance, telecom and retails with nearly 200 employees in Turkey by now, Asseco SEE Technology INC. provides a broad solution/product range.
Under the banking business branch, we provide end to end payment solutions, fraud and misconduct control systems, money laundering control system, risk management solution, financial / operational rental and property management, main banking and Internet banking solutions.
We have lots of knowledge and experience in Turkey in the field of secure e-payment solutions. We offer service, product sales, maintenance and operational, technical assistance services in the area of e-payment to 12 banks in Turkey and ten banks on the international level, including several greatest banks. We are one of the few technology companies in Turkey to be titled 'PCI Level 1 Certified' and the payment infrastructure that we offer is totally in compliance with the new legal regulations.
Under the system integration business branch, we provide different sectors with the various solutions such as call center solutions, property and expense management, application performance and user experience and business processes management.
And the field of mobile solutions includes mobile payment, mobile banking and security, solutions which provide rapid and secure information access from mobile devices, payment type supporting all card and non-card actions regarding card solutions, ATM / POS solutions and the end to end management of all these.
Turkey is selected to be the development base for some of the solutions that we offer. Fraud and misconduct control, secure e-payment, financial / operational rental and property management, property and expense management solutions are being developed our team here and offered to the usage of our customers in Turkey and other regions.
Which companies do you work within Turkey?
In Turkey, we mainly work with the leading companies in the banking, leasing, insurance and telecom sectors. Moreover, we provide 7×24 operational and technical assistance services to more than 25 thousand offices that are the customers of the banks using our services in the field of secure e-payment systems.
Thank you
I thank you.
You can watch the video interview we recorded with Hatice Ayas from Asseco SEE for more in Turkish.